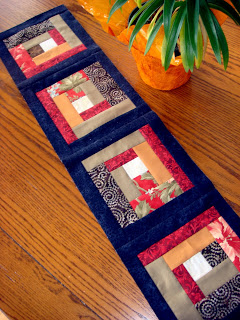 Just practicing doing a log cabin block from scraps in a different way than precut and measured pieces.  I'm in total need of some inspiring fabrics to do projects with, as these just did not cut it for me.   Yes, black, browns and dashes of brick are in my house, but making quilt blocks in these fabrics didn't feel inspiring at all.  
I've purchased some Katie Jump Rope fabric bundles, and I've been spying on some Kaufman aqua and reds that seem to be nice.    Also, I NEED to get a quilt done for my mil (still need to purchase that blue/white fabric, but I get the feeling it will be a blah feeling to quilt)
Maybe it's just a blah time for quilting, and I just need to continue my reading and soaking in of all the gorgeous blogs out there.  I'm in awe of what people create.   
I may need to do some fabric giveaways soon.