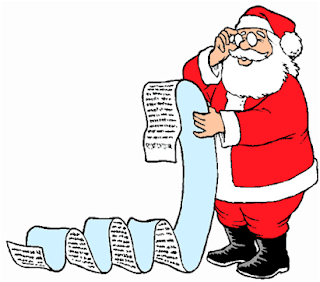 Okay everyone...this is pretty basic.   We're all posting about gifts we're giving to others. Now for once, let's be greedy little sewists and post what we WANT for Christmas from our loved ones.   No, I'm not talking about love, peace, family time.  I'm talking tangible items that will help our loved ones find a gift that we will love.    See?  We're still giving and helping others, only this time, it's ideas for
us
.... 
Last night, my dearest husband was asking me what I'd like for Christmas.  I told him to go to a quilting shop and find things there.  
 *blank stare, blinking quickly*  
Kind of like me when he starts to talk about some kind of hockey play.   LOL.
So,  in honour of my dear husband, spouses, family members around the world.  Let's make a list of desired crafty/sewing/quilting items that we would love to have under our tree.  Tools, accessories, fabrics, threads, organizers....  I'm going to state the obvious - yes, we'd all desire a new machine, let's get that out of the way! 
I'll keep this open until Tuesday evening, December 1. 
I will compile a wishlist for you of all of the suggestions, and post it on my blog, by Wednesday or Thursday.
I have no clue how big or little this may turn out.
Please come back and see what others are wishing for.  Perhaps there are some ideas that you hadn't thought of.    Trust me, your family and friends will love you for this!
**If you have links or websites, please include them.  I'll link them in my final list compilation.  Any suggestions, please email me!  I'd be happy to hear from you!
Now go. Get to it.  Make your lists and check them twice!   Andrea's going to giveaway to someone who's really really nice!   
*giveaway you ask?  yes...something nice.  Perhaps a few fq's. Haven't decided yet.