In Canada we have Winners and HomeSense.  I think in the US, your related stores are called TJMaxx and Homesense/HomeGoods.
Go to the stationary/books department, and scour the shelves.  There's unbelievable deals there.  Look what I found! I was so surprised to find these at this store.  They also had beautiful knitting books and kits.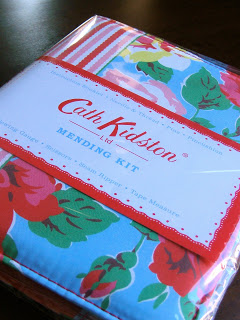 This sewing kit was only $5.99 !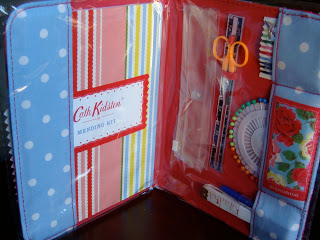 The 
Cath Kidston
 items reminded me so much of 
Amy
.  And then when I was 'thinking' of picking it up, the music in the store played the song she used to have on her music player on her blog "She is Love".    Oh my gosh, if that wasn't a sign for me to pick it up for her, I don't know what was!     So, I sent her one.  They also had a kitchen list magnet pad, and a home decor organizer/planner in the 
Cath Kidston
 line.  So cute!