There's something about washing and drying a quilt that makes it even more amazing than before. After I had finished machine quilting this, I was not liking it at all. You see, I used larger needles as was recommended by a Juki expert on yahoo groups. I experienced alot of shredding and thread breakage, even with my new favourite thread, 50wt
Aurifil
And it made holes in the back of my quilt. Topped with the gray thread, it just looked kind of icky.
And then I washed it: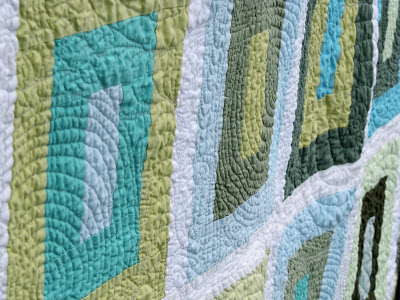 Even my uneven circles, my wobbly lines were rescued. My doodling curvey filler in between the circles even start to look cool.
This bottom brown block is my favourite colour block of the quilt: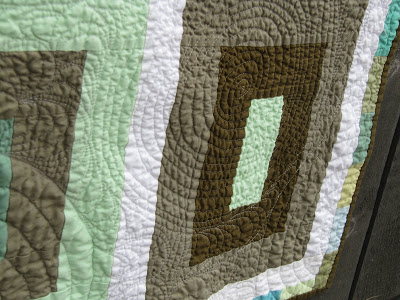 From the distance, I LOVE love love the effect of the circles. Next time, I would do all of the circles dense spirals...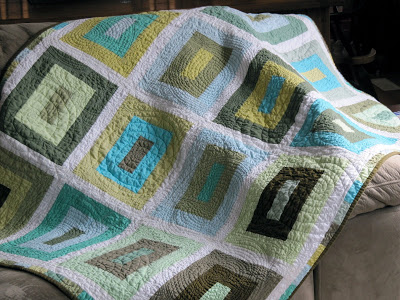 I'll even let you look close at my crazy filler doodles.... because on the white backing, the entire quilt looks oh so cool.
If you are a long armer and reading this, or have your machine on a frame - do not judge my work. I just have fun with it. plain and simple.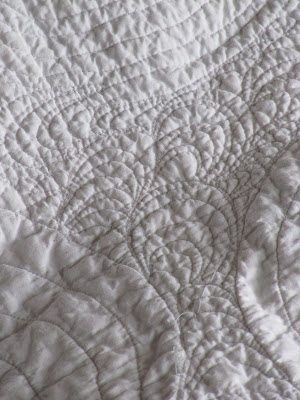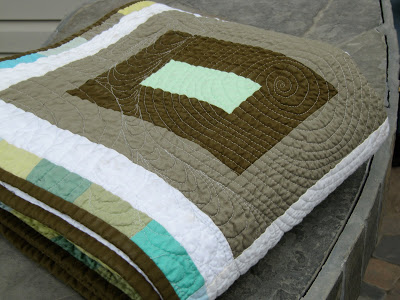 I placed a small border on it. I was fiddling forever on what to do with borders. I didn't have enough fabric for my first idea.
Measures approximately 46 x 56 after washing...please excuse the unevenness of the quilt in this last photo - I realized I hadn't stretched it and shaped it after taking it out of the dryer. In this photo, you cannot see the hint of the contrasting dark binding colour I used...but it's there.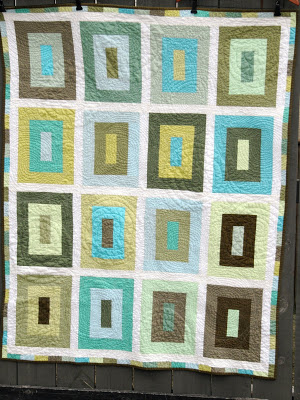 It's called Bedford because, well, the colours remind me of Martha Stewart land,
and one day, I will have a vegetable garden just like hers so I can stuff myself silly with okra.
Pattern is a basic rectangle in rectangle - no pattern used, so if you're interested in measurements, just contact me. The circles are 12" diameter - I cut out a piece of cardboard and marked the circles randomly on the quilt - then I just machine spiralled inwards from the outside edge of the circle.
Things I learned in this process and want to pass on to you (what I can think of at the moment):
Dense quilting makes it difficult to handsew binding on - get a thimble handy.
I find the Konas fray quite a bit. With the white sashing - trim your frayed edges, as when you baste/sandwich, those little buggers show through and then you have to take it apart because it bugs you.
when cutting and piecing your whites, make sure you really look carefully that you have all of the same lot of white. White is not all the same. I have two kinds of white on my sashing...if you look carefully in person, one is a creamy white. shhh, don't tell.
when machine quilting, look ahead of where you're travelling to with your machine, not directly where you are. Higher speeds often help the motion better (at least for me)
doodle with continuous line drawings on paper to practice your fillers. I used to do this all over my algebra books in highschool, except I didn't realize it would come in handy 20 years later!
when you are doodle filling, try and do this all in one sitting. I did it in two sittings, and found the 2nd time, it took a bit to relearn the doodle pattern groove I was in at the first sitting.
holes made from your needle will close up after washing.
Kona Colours used:
Blue
Candy Green
Celery
Bahama Blue
Herb
Honeydew
Mint
moss
O.D. Green (what does O.D. mean anyways?)
Old Green
Parsley
Seafoam
Sweet Pea
Zucchini
White
**at this rate, it's doubtful that I'll meet my "all" konas used goal by the end of the year...but I'll sure have a fun time trying!
Backing - a white cotton that I get from the drapery department of my fabric store. It's affordable and a nice weight, and it's super duper wide.
Thread - light grey Aurifil 50wt 100%cotton
Basting/Sandwiching - I spray basted and once again, loved it.