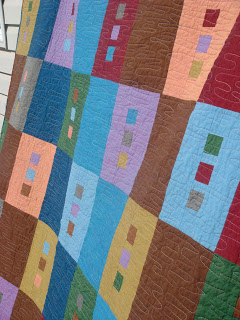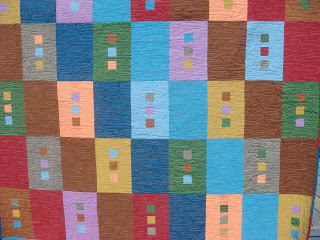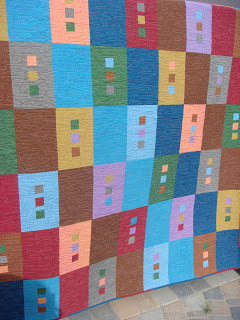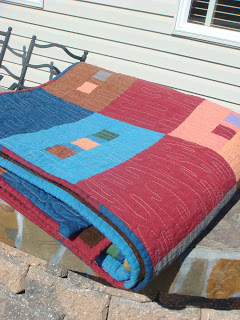 Pieced binding...and by pieced, I mean, every last bit of the fat quarter bundle that I bought from
PinkChalkFabrics
.  I used a varigated 100% cotton quilting thread, which in the photos looks white, but in real life blends pretty good.  I used larger meandering this time than I did with the
PlainSpoken quilt
.   I also used a soft minky-like backing this time rather than a cotton.  I say it's minky like, because it's not as plush as minky, yet it's soft...yet it's not fleece.  I bought it from my local fabric shop, and it cost me an arm and a leg.  But, it's soft, warm and really cozy.  
I so wish I knew how to take photos that really capture the colour and the sheen of some of the fabrics.  For instance, the peach shimmers a bit in different lights.   It's because the warp and weft threads are different colours.   I love the dimension that this fabric has.
This pattern is from a quilting magazine, American Patchwork and Quilting, although I can't pinpoint which issue I got it from.  I usually just draw a picture of the block in my notebook and then when I find fabric I like, then I make up the quilt. And so I did with this one.    
Edited to add -  I just uploaded my photos to
flickr
  and the colours seem to be much better than here.  I have no clue why.  
**Another edit - after hunting high and low through the above mentioned magazines, it is not those magazines that I initially mentioned. sigh.  It is from American Patchwork and Quilting Magazine April 2009 issue. (finally found at the library, yay!)