It's a long weekend here, and my husband decided that he wanted to go away with us for the long weekend.  I told him if he could arrange for a dog kennel and find a place, I'd go.   Truthfully, I said that because I knew, being the day of the start of the long weekend, he'd never be able to find something.  I was kind of hoping for a slow weekend to finish up some quilting and putter around the house.  That, and a sudden surprise trip brings up anxiousness of laundry to do, packing, etc which I'm just so darn tired to do right now.  Well, he proved me wrong.  We're heading to the Rockies tomorrow, to Banff.  The kids will have a blast and I will too, once I stop digging in my heels and get excited about it.  I don't know what it is with me, but I'm learning that sudden change is not my forte anymore.  I used to be so adventurous.  Now, it's a chore.  How are you with sudden spontaneous overnight plans?  But, I know it'll be fun.  Just perk me up with a Tim Horton's double double on the way and I'll be a happy girl.  Oh. And the fact that there is a quilt shop there.  LOL!
I finished pin basting my quilt. It's ready for machine quilting, which will have to wait till we get back.  Here's a sneak peak.   This photo is pre-pin basting so lots of wrinkles there..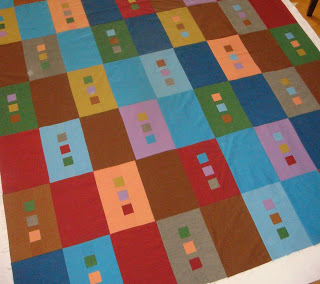 Speaking of pin basting - how close together to you put your pins?   I do them every 3 inches or so.  I just don't want to risk any puckers, and well, if I'm on the hard floor anyways, I may as well do some extras.    Also, where do you do your basting?  Table? Carpet?  Floor?   I do mine on the hardwoord floor.  I've heard it's not the greatest place because eventually you'll get nicks in your floor.   But I find the carpet does feel as solid and taut as when I do it on the hardwood floor.   
What are you up to this weekend?