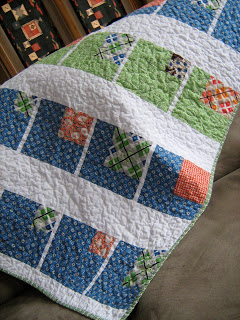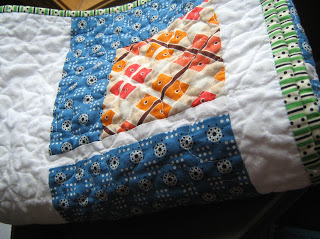 Washed, bound and crinkly. Just the way I like it.
Blockmaking - using graph paper was really helpful in figuring out measurements and cutting for blocks.

*never forget that 1/2" extra for seam allowances!
Fabric Choice - originally I wanted to use some solids like Ethan's drawing but I didn't have any (at the time) and I don't have a big stash of bold pinks.
Batting - I had a crib sized batting piece in that polyester thin batting. I was worried about it when I was putting it together, but after washing it, it's just as soft as other kinds. But, it is thinner, and so this is more of a lightweight summer quilt.
Spray Basting - wow, how super easy it was! I used 505 brand, as it was recommended to be less smelly. It was a great method for a small quilt. I'd get nervous using it for a larger quilt, but I may experiment on a larger one, just for kicks. I'm pretty liberal with my shoving and manipulating the quilt around on my machine, so often wondered if the layers would unstick or shift. Not the case. But again, smaller quilt so maybe better result?
Machine binding - let's just say it's quick, but I don't like the results at all. Perhaps it's that my binding looked uneven at the back or the stitching looked uneven at the back - it looked awesome at the front. But I didn't like the look of it on the back. In addition to uneven, it also looks too flat and not as fluffy as when I hand stitch.
**and yes, this quilt is made of patterned fabric - all from my stash. The only fabric I've allowed myself to purchase this year is solids, batting and backing. I need to use up my stash as well this year, so you'll see a few stash quilts here and there!
**My next solids quilt is all cut out and ready to piece!