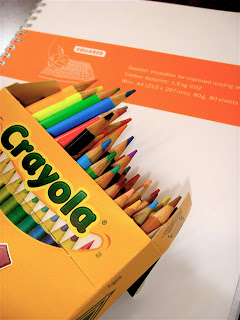 In part of my year long Simply Solids Project, I picked up an inexpensive box of pencil crayons and squared paper notebook from the art shop. I love how the notebook (from Europe) states it's actual carbon footprint.
How cool is that?
Because I'm beginner, I'm going to make up my design blocks in my notebook. I could use some fancy software, but frankly, I'm simple, and pencil crayons will be just fine for now.
I'm publicly stating my project now...this is big for me. Again, getting out of my comfort zone, and challenging myself to have confidence! 2010 is the beginning of a GREAT decade.