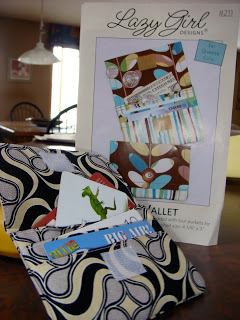 So easy. It took me 45 minutes - and that's a first time run, with fiddling with fabric pattern that was off grain and me wanting it to be perfect. Easy peasy. I highly recommend this pattern - easy to follow, and the wallet holds a ton. I have two wallets right now. I carry all of my cards in one mini card wallet, and a coin wallet for my coins and bills. I think this is my new card wallet for sure. There's even a pocket at the back designed to hold coins, but I have so many darn cards (have to earn points, ya know) that this will do the trick.
Pattern is by Lazy Girls Designs - Wonder Wallet. Next on the list is the Perfect Pouch, by the same company.
One off my list!
Strip piecing is highly boring. Thank goodness my juki is fast and at least I can pretend I'm a race car driver. My next quilt will NOT have lots of strips to sew together.