I was working on this...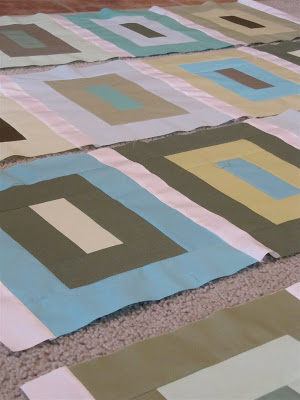 I love love LOVE these colours. It's a simple design, no special pattern. Sashing vertically and horizontally, and then I think I will frame it with a few rectangle borders to mimic the inside blocks.
What a nailbiting, fight to the end, game. That's exactly how good hockey should be. None of this 9-0 scoring stuff, or no scoring for an entire period. I love me a close, high blood pressure game. What a perfect way to end 3rd period with a tie it up score during those last seconds. Awesome. It could have gone either way at the end, but in the end, let me tell you - what a grand feeling to win that battle. Congrats to USA, and thank you for making it such a nerve wracking experience! Personally, I could care less about the medals we've won...it's the incredible Canadian spirit, excitement and patriotism these games have drummed up!
Closing ceremonies tonight...and then what?
Ah yes, SPRING and gardening!! Okay, maybe I'm getting ahead of myself on that one...