Thank you so much to all of your suggestions and comments. I'm totally blown away. It's amazing how many different suggestions there were, and how (happily) divided we were in our opinions! Love that!
I took a day or two off from the colours and said hello again last night. I finally caved and made a makeshift design wall in the spare bedroom

*
gasp! There are 6 pinholes in my wall now!! anyone grow up in a household where one was never supposed to put pins in the wall??? yup, me!
The design wall made a huge difference in plunking blocks here and there. I've tried the scattered white, gradation, no white, pale blocks, black blocks, charcoal blocks, pastel blocks. I think my design is just evolving, I'm afraid. I came to this last night, and it will likely be charcoal or black sashing. I really wanted to stay away from the comfort zone of black. It's just so typical, and I didn't want typical. It's not cut and done yet though...so maybe I'll let it rest another day.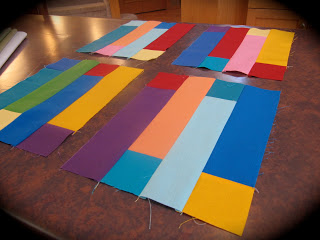 My next load of fabrics came in, I tried to pick modern neutrals, and I have a plan to do wonky rectangles for this one.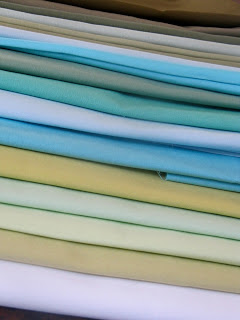 Hope everyone is enjoying the week!