**These ideas are for beginners who really need some ideas beyond the basic meander. You do NOT need a longarm machine to do any of these designs! In no way am I an expert, but I do have some ideas to share with you. Take from it what you want, need. If you have ideas to share, please do!
After you have become bored of your basic meander (and you probably already are!) you can practice some variations of it such as the watery meander . It can look very modern and sleek on graphic quilts and you can scale it up and down depending on your quilt. It can also be a great pattern to use for theme quilts: - literally as 'water' background around a sea themed quilt, or around an element such as a fish or duck. I have also seen it used in spooky Halloween themed quilts - as a foggy background.

The watery meander can also be squared up and boxy - such as on the right side of this sample. Also, don't limit yourself to one direction, try stitching it in a vertical direction as well!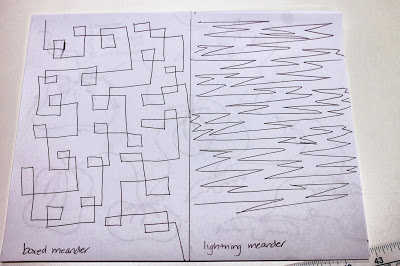 You can also take the watery meander and make it jagged such as in lightning or flames (above right)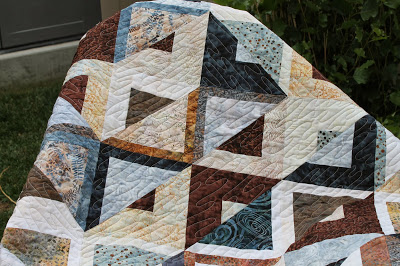 Another simple meander to practice is the loopy meander. This one is so great because you can literally add any element to it to create a theme.
First, you need to master traveling around an area without getting bunched up - lots of even spacing, and working on your shapes. Your loop can be oval or round - and you can practice adding double loops too.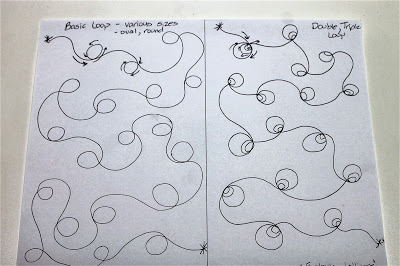 I like to practice making my loops very round - but ovals are good too because they be appear more delicate with leaves and flowers.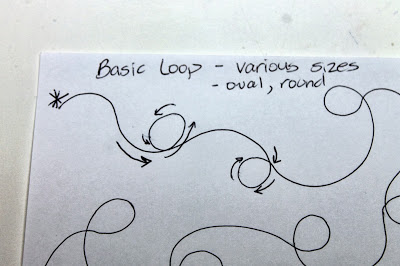 When you travel making the meander, your first loop goes in one direction (counter clockwise) and then your next alternates direction (clockwise). This helps to give some waves and motion to your meander.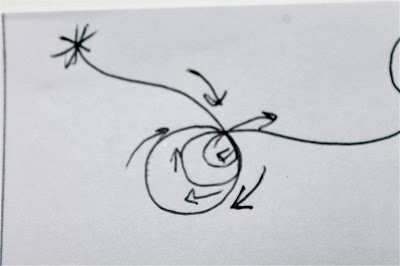 When you make a double and triple loop - make your larger loop first, and then the smaller ones inside. I'm sure you could do it the other way, but I find it easier to connect the loops without gaps and crossover.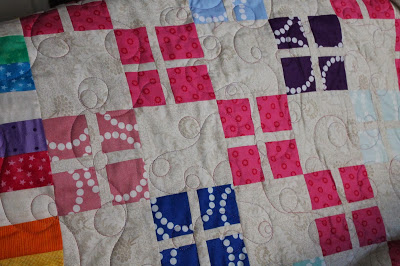 Again, changing up the sizes (but being consistent throughout) and shapes in your loopy meander add interest to the overall quilting pattern.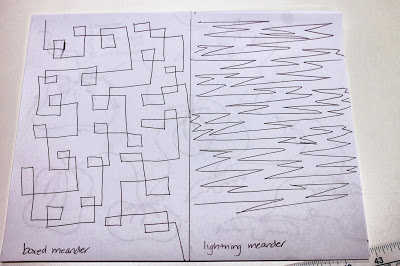 Another springboard from the loopy meander is the boxy geometric meander (above photo, left)
Instead of curves and loops, you use straight lines and boxes.
Once you've mastered loops and ovals with your loopy meander, you can substitute for actual shapes - typical shapes include hearts, leaves, flowers, stars. For Halloween coming up, I thought it would be neat to try pumpkins, crescent moons, bats, ghosts and even cobwebs!
Meander just the same as the loopy meander but instead of a loop, you stitch into and out of your shape.
The key to these shapes is finding a continuous line - no stops and starts. I found plenty of images on google to mimic in my drawings (google images =halloween shapes, halloween stencils)
And hey! Doesn't the double/triple loop almost look like eyeballs?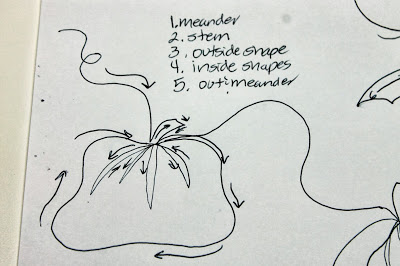 pumpkins are great because you can vary the shapes and sizes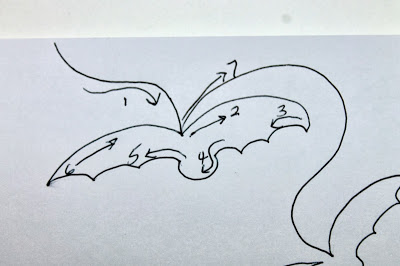 Bats were pretty easy too - remember to try and make your bats 'fly' in different directions, not just horizontally!
You can see here I found a way to make some cool spiderweb shapes too - all one continuous line.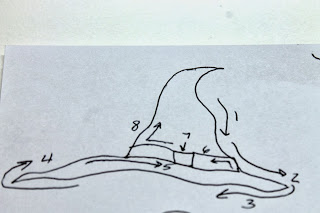 Remember to PRACTICE PRACTICE PRACTICE PPP on paper or whiteboard first. Practice until you are comfortable with it and then go to your machine. Get the motion/flow of that shape into your memory first so that you aren't concentrating on the mechanics of making the shape, but making it a beautiful shape.
So, there you have it - the loopy meander. Tons of options here and ways to take your machine quilting just a little more interesting than the basic meander. Think about the themed quilts you have for Christmas - stars, bells, candy canes, garland, trees, cross - shapes to change up that loopy meander and customize your quilt!
**tip - don't go too slowly - think of the speed as a smooth flowing dance. Look ahead to where you are going, not where you currently are.
Next up - what next? simple textures, hooks, spirals and swirls -even feathers!
If you have any requests, leave a comment and I will be sure include your request in future posts.