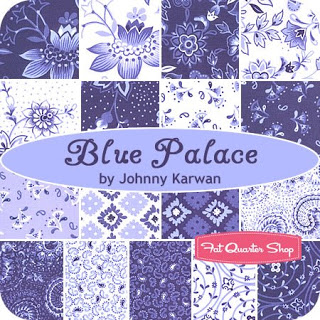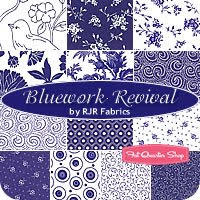 Oh thank heavens!! I found blue and white!!  It's not quite the navy I was hoping for, but it's a new whole collection of blue and white prints.... a delft blue.. So pretty!   Now I have to figure out what to make with it before I order it all up!
I have been yearning for it for awhile, and finally, it's come alive!! I'm all giddy!
Fat Quarter Shop
is where I spotted the two lines.  Now I have to do further research and see which one is crisper.  The blue palace looks like the blue has some white in it.  I like the crisper look of the bluework/redwork line.   We shall see. 
So, to all of you readers,  who lurk and don't... where do you buy your fabrics online? 
Here in Canada, at my quilting shops, fabric is at least 14.95/m .  Seriously. We won't even talk about charm packs or jelly rolls.   I gasp out loud when I see the $24.95 price tag on a charm pack.   Seriously.   Trying to find the modern designer quilt fabrics is also so difficult.  the selection here is murky.
I really don't know why there is such an inflated price as opposed to the US.  It really irks me. I want to support my local shops,  and do, but when I see what the prices are online it just makes more sense to buy online.  
So readers.  Where do you buy your quilt fabric online?