You're getting all excited to see the photos of all my projects now, right?
I procrastinate in every way possible when it comes to Christmas readiness. Actually, yesterday I came to the realization that my parents are to blame. Yes you read that right. I'm blaming them.
I'm forced into a society where Christmas begins in late November. This is impossible. You see, growing up, it was unthinkable to get the decorations up before December 15... We didn't get a tree up till usually around the 15-20th. Therefore, Christmas spirit has been indoctrinated to not appear until past mid December.
I was getting worried people, very worried. Every time I heard Bing in the shops, the tears would well up. Where did my spirit go? I
think it's arriving, finally, albeit late according to society.
I realized this yesterday, when I finally had some kind of wee bit of spirit developing inside - I even wrote Christmas cards.
So here is my list from last post, December 6. I'm keeping it real -
pillows - finished one, see below...other one needs a back. I still have 7 days.
ipad pouches - found them at Winners (like TJMaxx) for 5.99! Keeping it real folks.
zipper pouches - do I really need them? nah. I still have 7 days.
kleenex pouches - kleenex already comes in sanitary plastic pouches. Why waste fabric? I still have 7 days.
coasters - cut out , but on a recent dollarama trip, found some great croco ones for $1.50 - good for now, why stress to get them done for Christmas? I still have 7 days.
pyjamas - Walmart had all pj's on for $9. Really? Do I need to explain?
quilts - ideas ready. backing ready. I still have 7 days. backup gift already sent.
zipper coin pouch - ready to sew. Still have 7 days.
table runner - I still have 7 days left, right?
tree skirt - presents are under the tree right now. Nobody will see the skirt?!
couching experiment - Ideas ready, however, need scraps of cool yarn. May delete this project until I collect cool yarn scraps.
Hopeless.
What have I done with myself for the last 11 days you ask? Well, normal tasks aside...there have been field trips to help with, stomach flu, crafts at school, winter concerts, a birthday party to plan and execute, drapes and hardware to shop for, purchase, mount and steam/iron. Blinds to shop for and mount.
And in between my lady of leisure life, I catch up on Days of Our Lives. ;-)
Pillow - Red is an accent colour throughout my house - I wanted to make red for sure. I almost bought a set of red cushions at the big W - for cheaper than making them. But I didn't want to totally cop out of my list.
I also found this gorgeous wool blend that had clear sequins attached throughout in a very random pattern. The fabric just glistened, without being gittery. I knew this was the accent I wanted for my pillow. After seeing THIS cushion at Urban Barn I was inspired. My other pillow will follow a slightly different design...same concept though.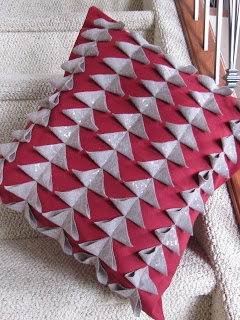 Super easy to make - I cut out 2.5" squares of fabric, folded them on the diagonal, and sewed them in a straight line down the background fabric.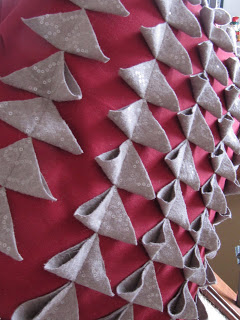 I took a few photos to try and show the sparkle that the triangles have - but it doesn't show up as nice as in person. One day, I'll be a great photographer!