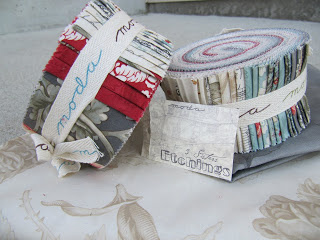 etchings by 3 Sisters - moda.
Do you find it difficult to unwrap these pretty little packages? I do. Part of the beauty to me is seeing the colourway wrapped up and scrolled around.....
Etchings has been unwrapped. It feels like I have taken a bouquet of flowers out of the vase and tossed the flowers randomly on the floor.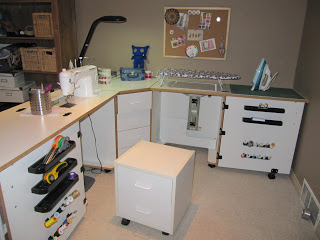 I bought a new sewing centre last weekend, for a super duper price. I couldn't NOT buy it. It has some storage and two sections for two different machines. I'm only using one machine space, and the other will be a cutting area (not for big jobs) and a pressing space. My Juki fits perfectly in the sewing machine place and fits flush with the table top (the hydraulic lifter is adjustable)
Random thought: I am in desperate need of thread. Lots of colours. I feel a big urge to experiment with smaller quilts and machine quilting.