Last week I had the opportunity to go to
Sparrow Studioz
in Edmonton.
Jamie Wallen
was teaching some classes, and I signed up for one of them. I went up with
Little House Creations
and her marvellous husband braved the snow and awful winter roads just for us.
We did a lot of doodling to learn some of Jamie's signature styles ...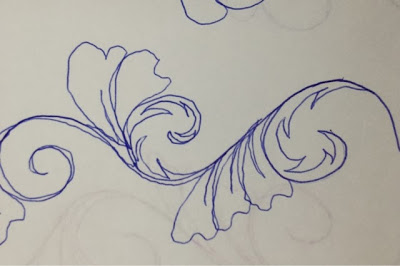 This variation of a vine/feather was a really tricky one to do, but I like the edgy style of it. Obviously I need a lot more practice, but thought I would show you some of the ideas we were taught.
Just by varying the petals/feathers you get different looks to your vine.
And doing a mirror reflection of the vine will give you an even cooler style - great for borders and sashing.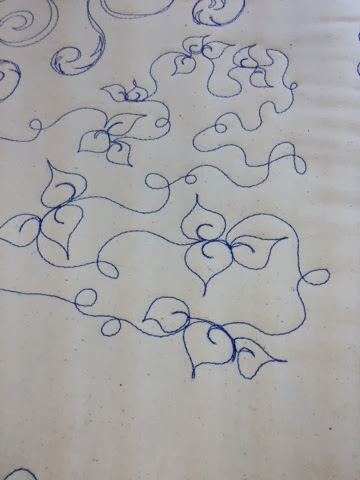 A cluster of leaves I can still hear him chanting 'chubby leaf, chubby leaf, chubby leaf"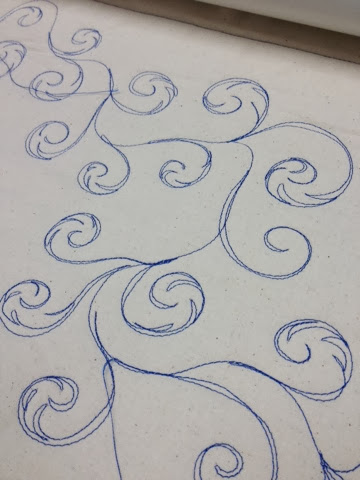 Edgy swirls make up an edge to edge vine...
Using a few elements such as petals, swirls, chubby leaves, ribbons, you could really change this one up. I loved doing this one - just not sure how to translate it onto a quilt, however.
It was a great day and completely mentally draining, but so much fun!
It's been a crazy busy few weeks here at Urban Quiltworks. Quilt tops for the longarm have been coming in steadily for the Christmas rush, with a few made to order quilts to complete as well. Add to that
Blogathon Canada
, school fundraiser committee deadlines, teaching longarm classes with
Bev
and a Moda Bake Shop project in the works!
Oh yes... and a surprise trip with the family that I have to pack/plan for during the day because it's a surprise for the kids! I'm wiped!!!
My plate is full, but my enjoyment is fuller.
okay.. I admit.. my vacuuming was delayed for awhile.