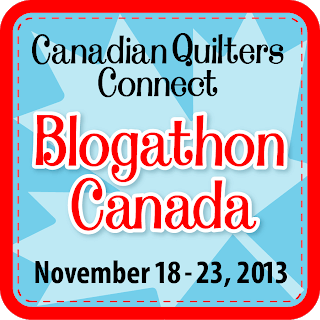 Hi everyone. It's my day today! This is the Sew Sisters Canadian Blogathon.
I have to admit I was very excited and a bit nervous about being asked to host. I mean, you want ME. And then the realization...you want ME. To talk about ME and show off? Gulp!
I am Andrea and I live in Calgary, Alberta. I am happily and proudly married, have two boys, a designer cat named Mojo, and a pseudo human lab named Jasper.
While you may think of Calgary as cowboy town. I need to tell you it is also an amazing multicultural city. It has big city feel with hints of small town love, and a ton of Canadian pride. Close to the Rocky Mountains, and in the heart of the prairies. Stunning scenery. Awesome summer thunderstorms. One of my favourite phenomenons in Calgary is the cold cold winter and the chinooks winds blow that blow through occasionally - it will be -20c one day and then +15c the next!
You can follow me here on my blog
and I'm sometimes playing on instagram - my username is UrbanQuiltworks
I've been blogging for many years now and while it is a public place to show my work, I blog to document my quilting journey...to be able to look back at things I've done. Almost every quilt I have made has been created from a sketch or idea in my head.
One of my quiet proud accomplishments to design and create tutorials through Moda Bake Shop (see tutorials tab at top of this page). It was a way that I could keep up my teaching skills, challenge myself in a new way, and hopefully help others learn to make simple, beautiful quilts...for free!
I love simple clean lines. Simple piecing. I love rectangles. I am inspired by graphic patterns and European design.
I am known to take photos of random graphic patterns I find, including:
trench coats in the airport;
men's graphic button shirts (no I'm REALLY not hitting on you, I just really like your shirt fabric)
and McDonalds play place walls.
Another quiet proud moment is my newest journey of becoming a longarm quilter. This has been so much fun for me. I mean really? I'm doodling on fabric people! With colourful thread! I love dense quilting and I can say that I am addicted to the texture my machine can make.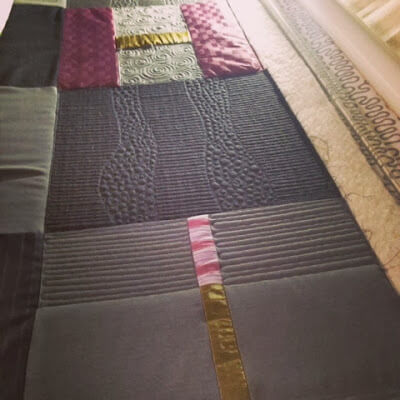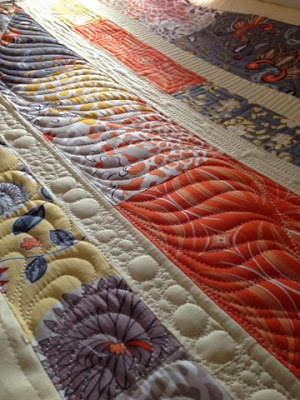 Quilting and blogging have introduced me to many beautiful things, especially the friendships and the kindness of fellow quilters out there.
This blog hop is super to get to know fellow Canadian quilting bloggers. Each day this week will feature different Canadian bloggers and giveaways.
Today I get to share my day with fellow Albertan, Katherine . She is also having a giveaway, so visit her blog for a chance to win a prize !
Also, today the folks at Robert Kaufman are generously sponsoring a giveaway over at the Sew Sisters blog!
If you've lasted this long, I am making it worth your time.... I too am having a giveaway!
This stack of gorgeous graphic fabrics for one of my lucky readers,
just leave one comment to enter...please please please make sure you are not set as a no reply comment. (Google this if you aren't sure).
I will need to contact you if you are a winner!
Giveaway is open to international participants as well!