I finished a few blocks for my bees - this one will be a zig zag quilt. The blocks were easy. I loved the colours. I'm not one that has much, if any, purple in my stash, but truly loved the crisp eggplant, mauve and blue colours against the white. There's also an avocado green which is such a beautiful complement. I think I may write these colours down for a future combination in a quilt.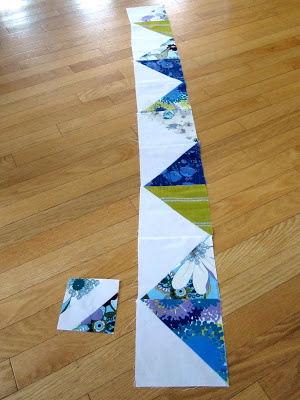 The next blocks are for my scrap busting bee. The child fabric was to be used as a focal point somewhere on the block. I loved this fabric, so cute! There was a ton of selection of prints to choose from, but I cannot move away from solids, I just think they frame things so nicely.
Still awaiting news, but it 'should' happen this week. It was supposed to happen last week but things were interrupting the process. It's good news, a little scary, but good!
Suki and I were reunited and we've been sewing smoothly...so far so good!
This week, I'm going to be working on that set of linen napkins and placemats and see what I can come up with. Perhaps I'll show you my progress on Wednesday!