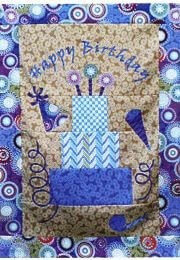 Yikes! I have one more year until I need to begin my mid life crisis!!! LOL
It's my birthday today! Nothing special happening, but I make it a point of saying happy birthday to me to make my kids think I never have an issue with getting older.... ( I don't)
I don't tell people outright, as I really dislike the attention. Never been one to throw a party about it. ;-)
Sewing mojo is just NOT happening this week or last ....it's the pits! I can feel it start to come back slightly though, so I hope this long weekend will afford me a few minutes of creative time to get back into it.
39th birthday year goal - to be able to run a 5km without stopping. I've never been an athlete, but I really want to be able to say that 'I can run'.
(quilting goals - duh...many!)
Hey...anyone read the new(er) magazine The Quilt Life? There was a great article in this months June issue about the quilting journey and process. Just kinda hit home is all.