So I don't have anything processing right now, except on paper. But since I really need to start sharing during
Workshop in Progress
, I thought I'd share some of my sketchbook plans that I've recently been tinkering with.
I'm thinking of changing up some of the colours of this one, and it would make a neat bed quilt for one of my boys....this actually was going to be what I used with the Avignon prints, but the fabric just didn't look right in this block setting in the end.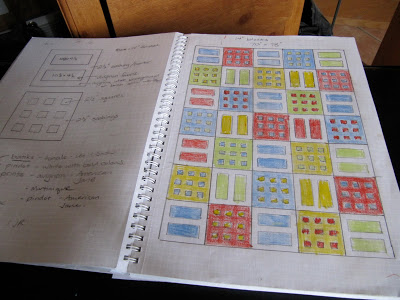 I want to use bold colours in this woven ribbon effect quilt...I'm still trying to figure out measurements though, and colours (ideas?) I just want to really make the weaving look like weaving.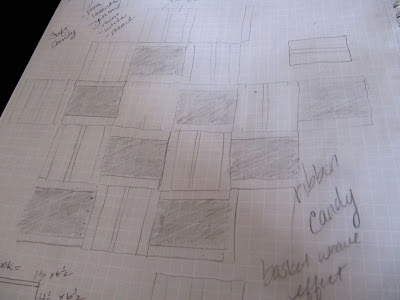 Taking my
Bedford quilt
to a subtle change. I just love the colours in that quilt so much, I have to make something else in the colours - bigger too.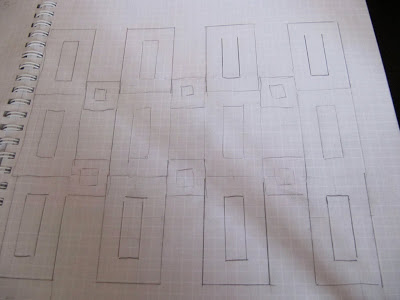 This was my original plan for a
solids quilt
, and when I put it together, it just wasn't happening.
I think this is one of the hardest things about working out your own patterns from scratch - you really don't know if it will look good at the end.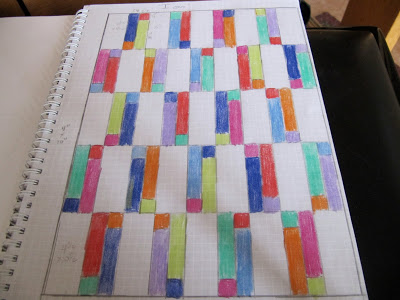 I want to get a few smaller wall hanging quilts for seasonal stuff - not cutesy though. I definately want a Canada Day wall hanging for June/July and this is what I'm working on right now. As you can see, I'm having a hard time getting away from those squares and rectangles.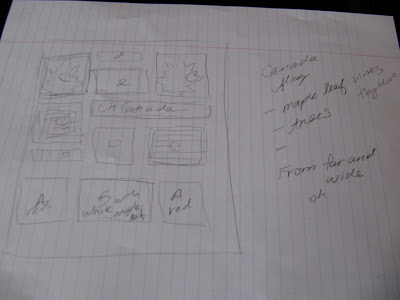 So there you have it... things going on in my head.
I totally emptied out every nook and cranny of sewing space this weekend and folded, sorted and purged a bit. Holy moly do I have a lot of fabric! (Well, for me at least - ever see the show "Hoarders"? well, let's just say, I'm the complete polar opposite of one of them...I had to talk myself out of purging fabric) So my solids are all in one drawer, my prints all in one drawer, and my scraps - one drawer for solid scraps, one drawer for print scraps.
My bigger guy is home sick with a fever today. I'm hoping to get my bee blocks sewn up. This week is a big week. Lots of sleepless and restless nights for the past few weeks. Perhaps that's the reason for my lack of sewing? Big news and we're hoping to hear today or tomorrow. Fingers crossed!!! (and it has nothing to do with a book deal or magazine appearance or quilting related anything! LOL)
Next post - the secret world of Moda Bake Shop. I know you all want to know. hee hee!