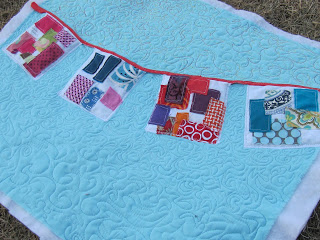 still needs binding and the 'line' to be stitched down...
clcik on image for a larger view
I have been playing with ticker tape blocks... little bean's teacher is about to have a baby, and I want to do a class project with the children - each child will create a ticker tape block from the mountain of scraps I bring along. They will dab some glue stick and glue em on. I had my boys practice for me so I knew what I was getting into. Glad we practiced.
After making this little sample, I'm still not sure whether to go the route like the sample above (except 21 little ticker blocks, and several lines ) or if I should go with the safe, predictable, fastened route of a checkerboard style quilt. Checkerboard would be more durable and washable, right?
I had a lot of fun machine quilting this yesterday. It was fun, because I wasn't pressured to be perfect. So, I quilted a design I used to doodle in my journal pages. (I used to doodle while chatting on the phone for hours to my peeps in my young and dangerous days.)
Aurifil thread still is my top favourite - I used 3 other brands on this sample, and my machine just loved the Aurifil still the best. Juki just purrs. Or is it the new attitude with her decals?