Pimp my stitch...
Ink my machine..
Tattoo my Juki...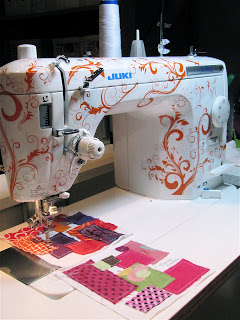 I may or may not have considered taking my pimped up Juki outdoors for a photo shoot for better lighting. She is just gorgeous.It was too windy, however and my neighbours are already perplexed by my quilt hanging outdoors in odd places. So, sorry for the photos not having professional quality lighting.....
When I saw these decals at
Quiltastick
I knew I had to get them. I have always thought machines were a little bland looking. I mean, this is coming from ME, the bland neutral decor person. If you go to the
website
you can see that I had a huge variety of styles and colours to choose from. That was the most difficult for me. There are
24 custom colours
available too, check it out!
The decals are very strong, stronger than a normal sticker - they are removable if you change your mind later - and there is an instructions page for that (you need a little goo gone or adhesive remover if there is residue left over) You can use a minimal amount of decals on your machine - or jazz it up with lots, like I did....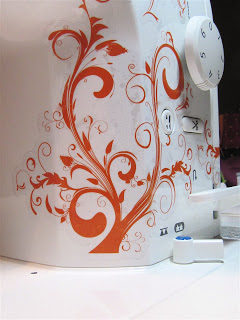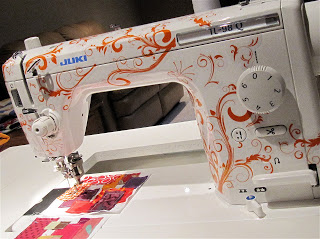 I used one set on my machine. I could have used more, but I thought it may turn into one of those tattoo jobs gone wrong.... you've seen them. You know.
Kind of like a car with a bumper sticker problem...
I may or may not have thought about dressing up my washer and dryer with these decals.
Isn't it fun!!??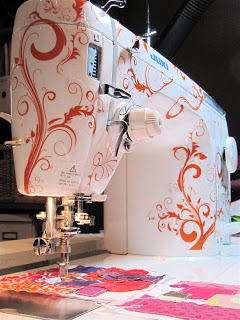 If you go to the Quiltastick website, there is a
gallery
where you can see some stickers used on those industrial looking long arms: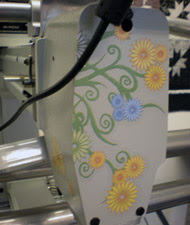 Shipping was free and quick (even to Canada), and customer service/communication was excellent!
I contacted
Quiltastick
if they would send me an additional sheet for a giveaway, and they kindly did.
I am giving away a 12 x 12 sticker sheet in the same pattern I have used - in orange!
Leave a comment below if you would like to win. For an additional entry - just blog about this giveaway, and leave a comment that you did.
What do you think? Is it a makeup job gone wrong? Fun and Funky? Drag queen machine?
I'll leave this giveaway open until Sunday January 29, 7pm MST and draw a name then!