Longarm quilting donation quilts for the Calgary Flood - Quilting for Calgary.
In between summer holidays, entertaining children without electronic devices the whole day long, and the regular daily grind, I'm hoping to keep one every 2 days kind of goal. I seem to have figured out a system to get about 3-4 hours in a day now. :-)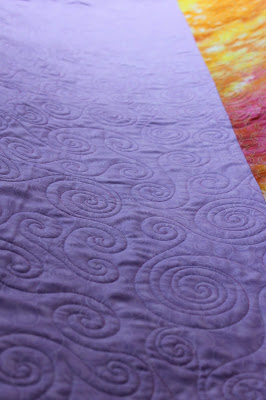 My overall spiral freehand - using small medium and large spirals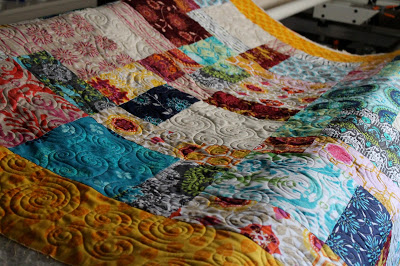 More spirals..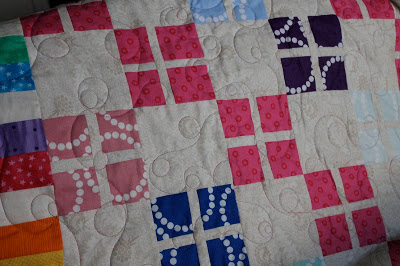 Loop de loop and double loop de loops...
Pantograph work...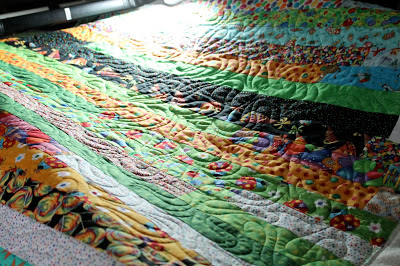 front of pantograph quilting...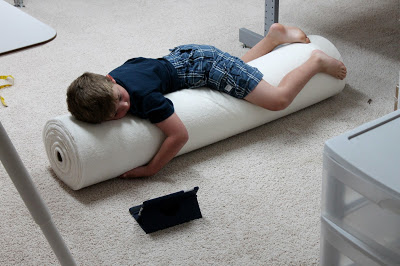 child keeping me company, and cozy. ;-)
I bought another bunch of thread, and I think I have finally nailed down my favourites to buy future bulk. I decided to buy more of the So Fine by Superior line.
Of course, the choices are overwhelming, and I had no clue what colours to start out with. So I called Gail at
Erie Quilt Art
and told her my predicament. I said I needed to stock up on So Fine threads - send me xxx amount of the more popular colours. I also mentioned that I was working on charity quilts for the Calgary Flood. After giving her a budget of what I wanted to spend, she also convinced me to try some Magnifico by Superior as well. On top o her great help, she offered to send me extra thread as a donation for the Calgary Flood longarm quilting. I was thrilled by her generosity, as well as her knowledge. Will be ordering from her again for sure!
I'm extra happy to have yet another Canadian supplier to work with.
As well, I think I am a convert to Magnifico thread - it is very similar to Glide Thread, but slightly less sheen and a smoother thread. Gorgeous stuff.