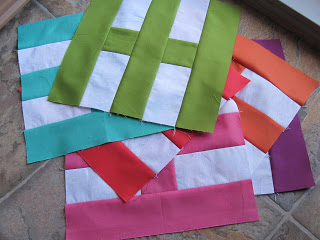 I pulled a bunch of my favourite brights out of my stash and started sewing. I have been tinkering with positive/negative spaces as well as reading a lot about MCEscher and tesselations. My love of graphic simple lines always shines through. The quilt done should be done fairly quickly.
My dog is not doing well, and we've had some really hard decisions to make. There's kidney disease, tumors large and small, enlarged liver, and very low red blood cell count. We've got one last 'thing' to try but the longevity and outcome will be inevitable in our near future. With that news and the decision making, the sewing once again reminds me how tremendously therapeutic it can be. I lose myself in my thoughts while sewing, and it is almost soothing to hear the purr of the machine (or the screech of the tires when I do long races of strip sewing). It is totally a place for me to calm down, reflect, and even heal somewhat. The past few days I have paced, chewed my lips, nails and cuticles to bits, eaten many bad things, watched mindless tv, cried my eyes out....and then I sit down to sew and it all lifts away after awhile.
I don't know how to explain it.
My cat knows something is up. The dog is at the vet hospital for two days, and prior to that, he has been laying very near the dog....today the cat is meowing loudly all over the house looking for the dog. sigh.