While photographing my latest quilt, this is what happened....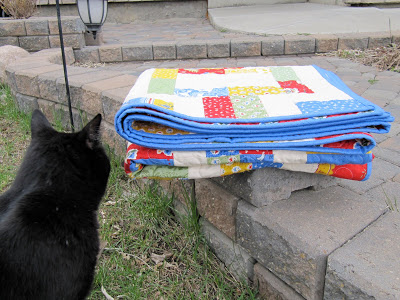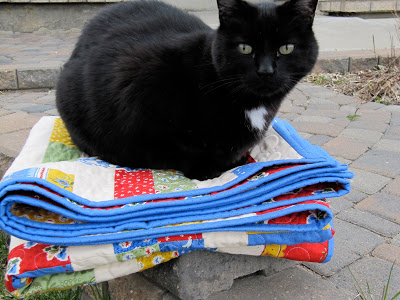 Seriously, why do all cats seem to do this? He was in the back yard and FOUND me. See how smug he looks?
My machine is at the shop. It's getting one more chance. ;-) My dealer told me not to trade it in. But I do have a new machine in mind if it doesn't cooperate after.
Do you ever get into a blogging/internet funk? I get that way a few times a year. I just feel 'done' with it. I get tired of giveaways and completed projects coming out of every corner (but mine) and join me on twitters and become a fan on facebook blog about this on your blog and my sponsors this and that....
I don't dislike individual blogs/bloggers because of this...I dislike the
trend
to where it's all going, commercialized I guess. I'm happy about people becoming successful and becoming business women and all the aspirations that they are striving for. It just gets tiresome to me sometimes. I just want to see your life and your projects! And one day, if I ever meet a pot of gold at the end of my rainbow, perhaps I will ask you to twitter me too. Except you most likely will never find me on twitter. ;-)
I wonder if the seasonal change has to do with it...the garden is just starting to show some growth now, a few daffodils and tulips up, and weeds too (why are they always out first?) I feel the need to get out there! Or maybe because my machine has been so mean to me that it's transferring over?
So I've been balancing and enjoying things outside of quilting too. Awhile back, I was even dreaming/nightmaring about quilting. That's bad.
We've been on a few road trips....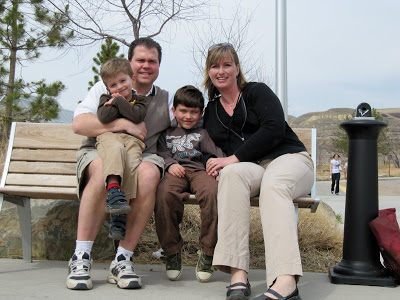 We had a fire in our backyard this weekend....
Taught Ethan all about twigs catching fire and then running to our pond to extinguish it and the 'pssss' sound it makes when it goes out in the water.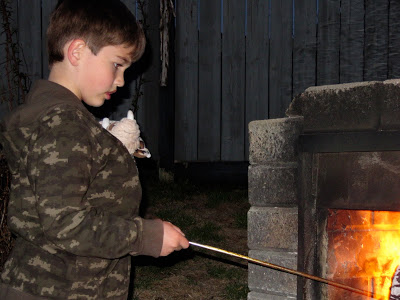 I'm amazed at the bond that Ethan and Mandy are developing - this is a terrible night shot, but if you could see how proudly Mandy was sitting for Ethan while being brushed, it brought tears to our eyes.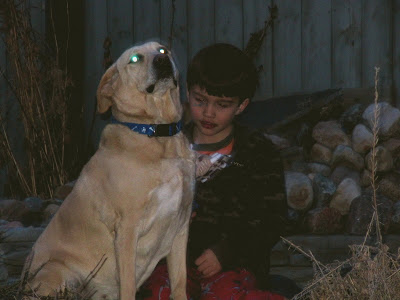 Ethan is in an all boy class this year (because there are only 4 girls total in all 3 grade two classes!) and his boy class was invited to sing at the music festival this year. They got dressed in white shirts and ties...and we treated him to a MonsterMudPie afterwards. Usually it's just a cone at McD's, so this was pretty awesome to him!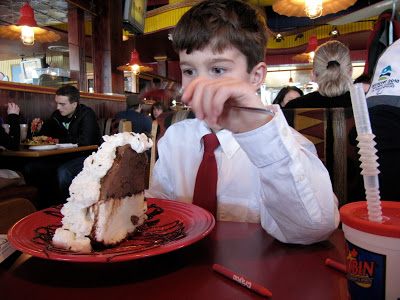 And Cameron, well, let's just say he's in the ham it up picture phase. I can't get one serious one!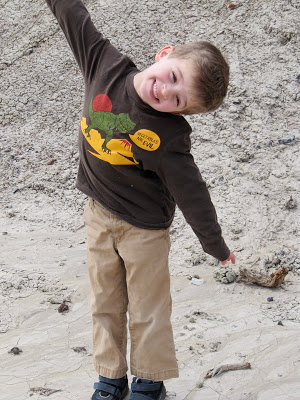 And lastly....are there any blog friends that you have that just sometimes put a smile on your face or warm your heart or cheer you up for no real reason? I have to say thanks.... sometimes I get an email/comment or a reply back and maybe it isn't something you think makes a difference in someone's day, but don't ever underestimate the power of the written word, they do. :-)