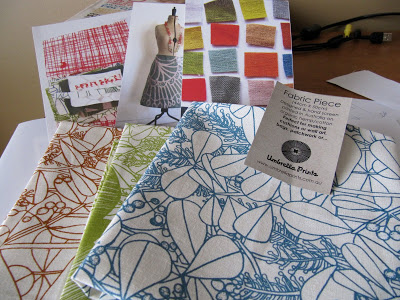 I won this gorgeous fabric from Australia -
Umbrella Prints
on the Modern Quilt Flickr Group - I guess I posted and was randomly chosen some weeks ago. Anyways...isn't this beautiful fabric? It's hand screen printed organic hemp. It would/will make beautiful projects such as handbags, totes, wristlets...whatever. It has a linen like quality... beautiful, and the colours are so fresh. Thank you so much!
I made a couple of itouch covers for my sister with the blue fabric. I was reminded again at how I dislike sewing little things like that. I don't know why. I think I'll use the remaining for some zipper pouches or similar items. They may make some cameos in a quilt or two. If you butter me up enough, I'd be willing to share. (they are just smaller 44x50cm squares)
Confession - is it wrong to LOVE LOVE LOVE the swatch postcard they sent me the most?
My Moda BakeShop project will be posted tomorrow!