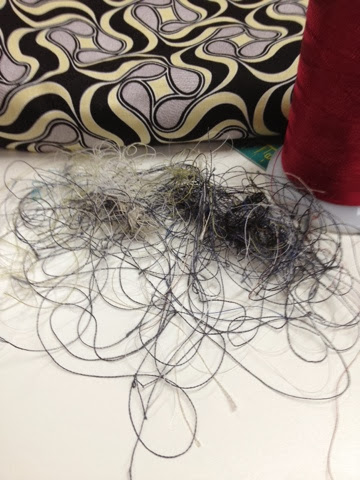 I know I know. One can lecture me over and over again but I can't break my habit. I've tried many different strategies.
I toss my threads on the floor.
I toss them with attitude. Tossing them gives me a bit of relief when I'm in the quilting zone . It actually feels a bit bad and rebellious. I know I should have a little thread catcher or a pocket in an apron but I just can't.
I hope this doesn't give anybody the impression that I'm a slob or I'm not organized because on the contrary , if someone was to come to my studio right now they would see that I'm probably too organized. You see, I dislike clutter. It really distracts me. I don't have many tchotchkes cluttered on my shelves. I don't collect lots of fabric or tools or quilting items. The only clutter you may find is my collection of mints ( have you tried altoids liquorice?!) stored in a bowl in a drawer.
and my thread mess under my machine.
So I want to know: am I alone ? Am I the only tosser around here or are there others like me?