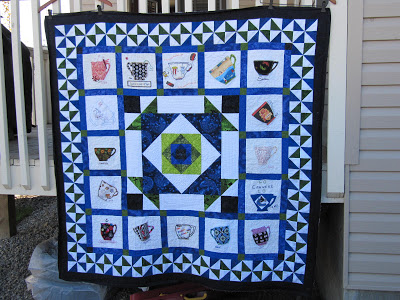 This quilt is way overdue. I belong to a lovely group of friends called the BCBabes. We met online while planning our weddings 10 years ago. You know, when all that revolved in our lives was eating out, growing our careers, wedding dresses, favours, honeymoons...
We formed some great friendships and often get together once a month for potlucks or babefests, as we call them. A while ago a dear friend and fellow BCBabe had found out she had breast cancer. This was just an awful and silencing time for me.

The thoughts that I had when we first formed our group were starting to come true - when we were planning our weddings I often thought about the future of the babes - our future children, our future success and failures and as we got older, our health issues....and it was starting to happen. How could so many years be passing us by already?
We all wanted to do something special for her. Lily has an obsesssion passion for tea...and the teacup theme came about. We came up with the idea of collaborating on a quilt and the 'craftier' people would sew up the quilt, while each person in the group would hand stitch/make a teacup block representing Lily's interests or symbolizing themselves on the quilt. This process took the longest - just rounding up everyone and keeping tabs on who was finished, who needed help, who needed a little fire under their butts to get going and complete things. Fast forward to today, when the presentation was made to dear Lily.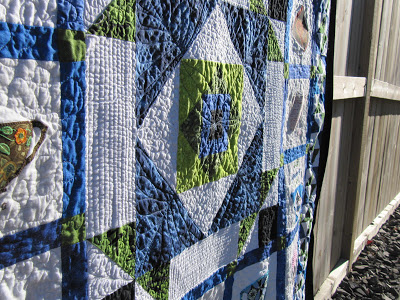 An idea of some of the teacups...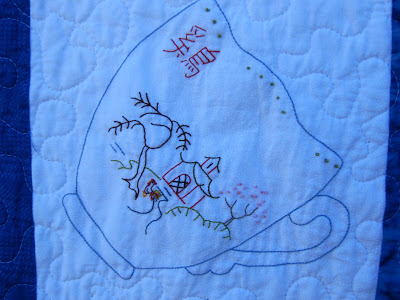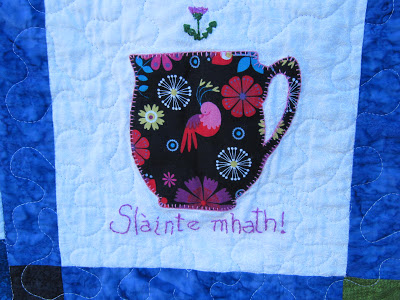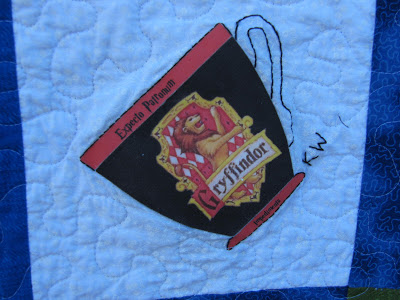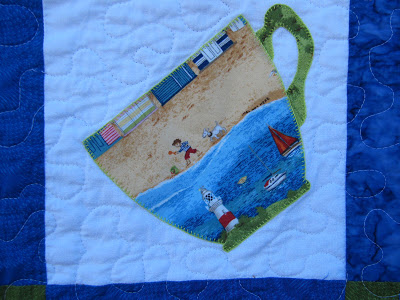 Closeup of the quilting and lovely crinkling...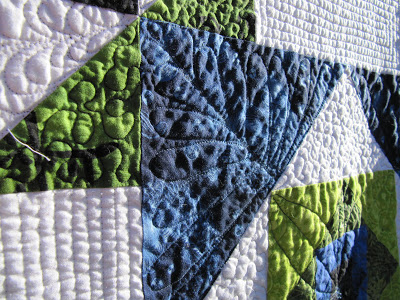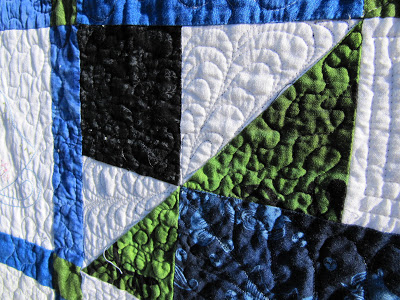 My dear friends presented the quilt to her in person - I linked up through facetime on the Ipad and was able to watch everything from LA, as I awaited my boarding time onto the cruise ship.
The technology collaborating this was awesome - we belong to a bulletin board forum strictly for our group - and we were able to start a private discussion. We have members that are in Calgary, Iowa, Australia and northern BC.
The quilt started in Australia, where a great babe started the process of the center medallian and all of those wicked looking pinwheels. It later got shipped to me in Calgary. All of the tea cup blocks were sent from BC, Alberta, Iowa, and Australia to me, and then I compiled and completed the layout of the quilt. I pieced it together, machine quilted it and sewed on the binding....it was then sent to BC for the binding to be hand stitched by some other lovely babes, and finally to be packaged and presented.
It's just another way that quilting has brought together a group of women, and hopefully brought a hug to someone who needs to know we love her.