Happy Thanksgiving Day to my Canadian friends! My family usually celebrate Thanksgiving on Sunday, and then have a lazy roly poly day on the Monday (the offical day off

)
Last night Cameron and I made Cranberry Bread. We named it Camberry bread....he was totally chuffed about that.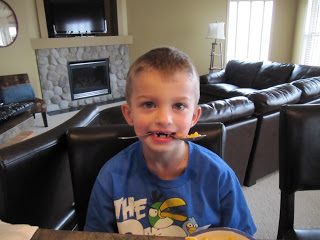 Today, Ethan had a very keen interest in the unwrapping and dresssing of the turkey. He was particularly fascinated with the heart, liver and neck that come in the little 'gift' bag inside the turkey cavity. He helped me stuff the bird, and said that he couldn't wait until Christmas to see the guts of the next bird. ahem.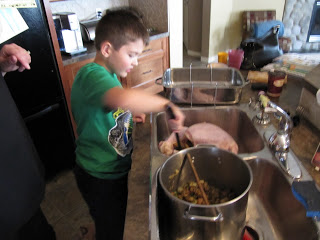 So, as he's stuffing the bird I realize that during our move, I've misplace my skewers and need to sew up the bird instead. I had a giggle as I went to my sewing space and rifled through my needles and threads.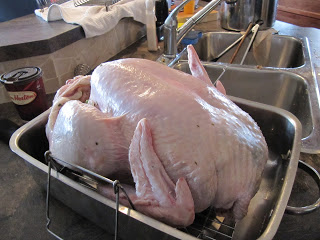 Aurifil?
Cotton?
Sharps? Embroidery needles?
What does this bird deserve?
I settled on an old discarded machine needle and some Aurifil. If it's good for my machine, it's got to be good for the bird. right?
right?