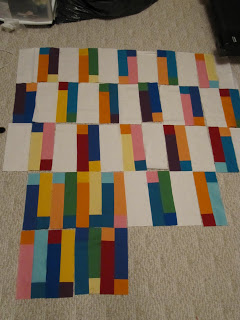 I need help.
I love my solids projects...okay I love designing and coming up with a plan, but when it comes to fruition I start to hate it. So, as I'm organizing the blocks in my quilt, I get a few rows done and realize - yuck. I think it's the white I hate.
Do I change the white blocks to another solid, like black or charcoal? OR do I trash them completely and put all the coloured blocks together as I did near the bottom? or do I keep the white and keep going?
Ugh. I hate when I get to this point. I think I'm using too many colours.
If this is the rate my solids are going, I'm ditching the project and getting me some Moda love.
;-)