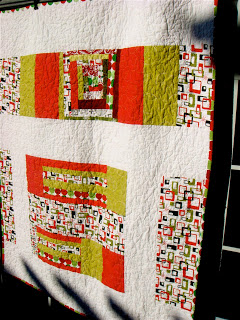 finally, finally finished. My gosh this was the longest pitter patter procrastinating quilt ever. It was supposed to be a gift for my friend. Maybe next year ;-)
It measaures 45" x 55". The pattern is from J
elly Roll Quilts
by Pam and Nicky Lintott. I didn't use jelly rolls though. I pieced the back and actually like the back more than the front. Funny how that works.
The binding is in dots - love em!
Washed and crinkly and ready to fight over.
This quilt has given me inspiration for a solids quilt - if you look closely it kind of looks like ribbons woven together - I'm going to modify the blocks into something that will look more like solid ribbons weaving together. That's my March quilt. February is designed, waiting for fabrics and then set to cut.
I still have never made quilt labels for my quilts. Now that I'm more serious about quilting, I need to research that. I like those little twill tape ribbons or just ribbon with a name on them. I know it's not traditional, but I like that.