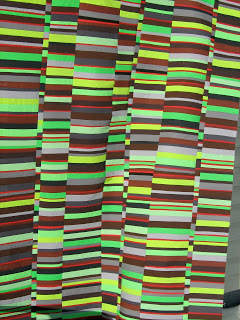 The envy being the red in this quilt ;-) Windy day here. Enlarge the photo and hopefully you can see the red better....I wish I could figure out photography. Oh well, this is an amateur blog, so I hope you understand.
I'll post more details as to the size; pattern I somewhat followed; colours of Kona used; etc.... but here is the quilt top done. Now to baste it (blech) and quilt it. Any suggestions on quilting it? I'm thinking
horizontal meandering
, but I'm kind of nervous about all of the seams. I may just leave it for a bit. I'm kind of sick of it.
My
Simply Solids Project
is definately underway! I've ordered more solids for my next quilt, which I made the pattern myself.
My
Ethan
quilt is underway too - I'm using a selection of Katie Jump Rope fabrics, rather than the pink he coloured with. He was okay with that ;-) I just wanted to get something fresh and simple started, as this Green with Envy quilt just kind of made me feel blah.
Kona Colours Used for Green with Envy:
Asparagus
Black
Brown
Charcoal
Chartreuse
Chocolate
Coal
Espresso
Kiwi
Med. Grey
Pepper
Ruby
Sour Apple