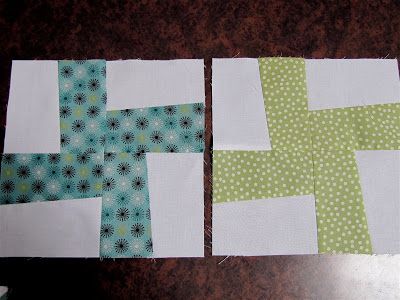 Our group also decided to make signature blocks (our choice) for the back. Here is what I came up with: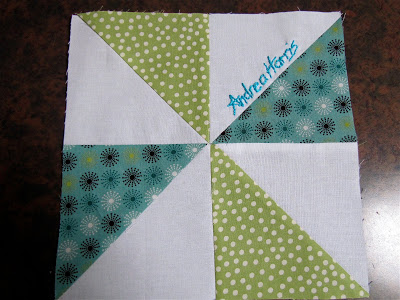 Don't look too closely at my work.
1. I've never ever done a triangle block before, I'm a square girl.
2. I've never made a pinwheel before.
3. I've never embroidered my name before (all i know is thank goodness I didn't have my 13 letter maiden last name to do)
So, here's what I noticed when making a triangle block. I think it's called an HST (half square triangle) After I draw the diagonal line on my square, I need to stitch 1/4" on either side of that line. My quilting foot didn't like that (it has that fabric guide which wants to bunch up any fabric on the right of the foot) and I had to change presser feet and use the little guide line on my sewing plate. This was difficult because the fabric of the square was covering the plate markings so I really had to guesstimate.
Any solutions about that one? I'm thinking of yanking off the little fabric guide thingy on my juki 1/4" foot. I actually don't like the guide part of the foot either because it kind of distorts the 1/4" seam slightly larger (I think)