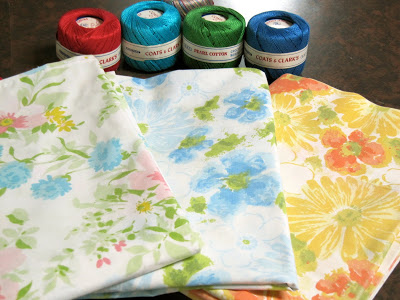 I'm terrible at buying things at the thrift shop. As in, I usually don't. I can talk my way out of buying anything. I'm a husband's dream.
These sheets were at my local shop on Saturday and I hummed and hawed ALL day and all weekend over them. They were 9 dollars each set. I said to myself that if they were there on Monday, then I'd pick them up. Monday I was busy, Tuesday I didn't get there. Today I did. And there they were.
See, here's the reason I was stalling - they are each KING sized sheet sets with 2 king pillowcases per set. In pristine condition. I know. What the heck am I going to do with that much? eep! But now that they are at home, I'm sure I can hack my way through them in the next year - and perhaps swap a few prints.
And the pearl cotton? Are those colours the coolest ever? A bargain at 25cents each!