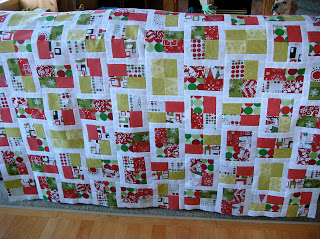 My quilt top is finished, finally.   Does anyone quilt like this? 
Turn light on to sewing machine..
Mom, can you change the wii game for me please?  (go do it)
Sit back down. Sew a seam, a partial seam.
Mom, can you help me with this part of the game?
Cat is trying to get under, er, rearranging my layout.  
Forget to put iron on. Wait for it to heat up.
Phone rings upstairs.  
Sew another partial seam.
Mom, I'm hungry.   
Iron is on auto shut off mode now.  need to wiggle it to heat up again.
Mom!!!  I'm dooonnnneee!  (going to the bathroom...needs 'help' if you know what  I mean)
Iron seams.
Go check clock.   Shoot - we need to run and pick up big guy from school!
Turn iron off.  Machine off.   
So...my sewing goes in snips and snippets.   But, it's my life, and one day, I'm sure, I'll be wishing for the little ones 'needing' me all the time.   
Next, need to quilt it together, and deciding on a binding colour.  Red? Green? Dots?