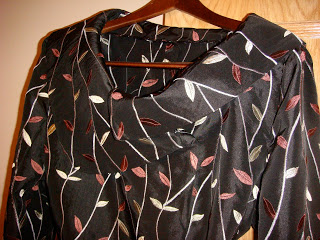 I'm really happy with my sewing skills and how it turned out.  Quite proud of the way the collar turned out and everything.  But it just doesn't look good on me.  If I had a professional fitter, perhaps to give it more shape or something.  Perhaps (well, I know for sure) my body just doesn't look good lately, and this doesn't flatter me.  It's boring.
sigh.
I do have a backup outfit to wear.   I had a wonderful pity party with myself last night, after working all weekend on the thing.   Beating myself up over the fact that I used up all of that time and nothing to really show for it.   Anyone need embroidered taffeta?  
So, it's confirmed.  I do not like sewing garments.  At all.    The cost of clothing is well worth the price, and the time consumed constructing a garment.  I think in the back of my head I knew this project wouldn't work.  But I plowed through anyways.
I guess I wanted to see if branching out from quilting may be something to explore again - I used to love sewing clothes as a teenager.  Not anymore.    I love those cute bags that everyone makes, but I'm a solid colour leather/pleather kind of girl.  Back to quilts.
In other news - if you have PAX tires on your vehicle or plan to get a vehicle with PAX tires.  Don't.   What a load of crap.   Three sets of pax tires now on my 07 minivan.  With only 60,000 miles.   They only last about 20,000 miles!  
Question - while at my LQS the other day I was perusing flannel.   I asked the difference about flannel there vs my other fabric store that sells flannelette in those cute kid patterns.  I got the eye roll and lecture about quality and pilling.    Is this true?  
Truth be told, in my Christmas quilt (pics soon!) I used a combo of LQS prints and big store prints and could tell a difference in the hand of the fabric, the density of the weave, and the slight stretch in the cheaper quality stuff.   So I was just wondering if anyone had experiences, good or bad with flannel vs flannelette.
*sigh* I need to lose weight.  This insulin thing has made me gain weight back quite rapidly over 6 months.  My "move to Edmonton" weightloss was not really weightloss, but me being very sick, and now that I'm getting healthy again, so is the scale.  :(  Feeling very upset and low self esteem about it lately.  Anyone know how to get out of the funk?   oh yeah. my treadmill.
wow...verbal topic diarrhea today!