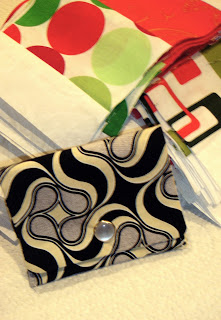 I so aspire to be one of
those
sewists. You know, the ones who whip out a project a day? It isn't happening here. I'm in awe at how many projects they complete. They obviously don't have healthy television habits like mine - Days of Our Lives, Oprah, Oz, and the news...Glee, Ugly Betty, and 90210 just entertain me. ;-)
I have been busy though - while I wait for Suki to arrive.
I have a Christmas quilt on the go, and I tried, tried, tried to replicate my wallet which I love. I need to plan and measure better. But I did end up with a little wallet - a tad too small for my cards, but I decided it would make a nice pantyliner keeper for those just incase days. You know, when you want to have a happy period.
Did I just say panty on my blog?