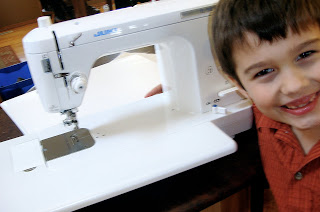 Everyone...please welcome my newest family member, Suki.    I adopted her from my neighbouring province, and she's beautiful.  She found me through the Juki Yahoogroups....someone couldn't use her anymore and went on to bigger and better machines. The owner thought I may be interested, since I posted my interest in purchasing new locally and couldn't find a Juki dealer.
Suki arrived here at 9:30 am.   It of course is a story in itself.  
It's a week off for the kids, so we've been slow on getting ready in the morning.  Naked in all my glory, about to step into the shower, the doorbell rings.   All I hear are the stomps of the rush of two boys feet (with only underwear on) on the hardwood and the clicking of the dog's nails...and the announcement barking.   The stampede to the door.   I'm upstairs shouting DON"T OPEN IT!!!!  I"M NAKED!!!!!     Panicking...of course, because anyone coming to the door is a novelty. Still.    
I rush to put my jeans and t-shirt on...no underwear or bra *shudder*  Imagine.  No. don't.    I greet the mailman, finally, and you can see the confusion in his eyes as he had to wait a minute or two with two underwear clad boys and a dog smooshing their faces at the side door window, waiting for me. 
She's here! I can't wait to try her out!  
My boys are very excited... they want to find out what that red button on the speed control foot is all about (the thread cutter)