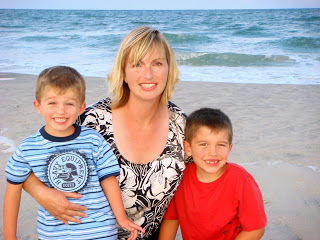 I can honestly say that I'm not a whiner or a complainer but vacation this year wasn't as good as it's been.   Hubby pulled out his back (probably from luggage) and for the first 3 days he was in alot of pain.   Then, hubby's sisters and spouses and children descended upon gramma and poppa's house, and it was a zoo.   I was a little freaked out over the lack of boundaries and some behaviour issues with the other kids.  It was a real eye opener as to the different parenting styles within my husbands siblings!   It was nice to see them all, but we're quickly reminded at why, as families, we live in separate homes ;-) 
 Dh also developed swimmers ear which became an ear infection and he was "out" again for 3 days at the end of our trip...he needed to go to emerg twice to get pain killers it was so bad.Is it wrong of me to insert a little comment about men being poor patients when they're sick?   Being Canadian, the system is a little whacko with the insurance thing (omg I'm so glad to have medical like we do in Canada)  so we need to get the paperwork and costs straightened away.    He's still not well.  And me, while he was in his own little sick world, I was fighting off a cold, which has manifested itself nicely into a full broncial chest/head cold today.   Just call me barky.  So we've had quite a few blips this year.  All in all, the trip was nice...just really busy and a little stressful.  I'm glad to be home.  
I'm glad to get cracking on a quilt.   Before I do, I may just make a bag first.    I'll leave you with some beachy thoughts... this wasn't intended to be a whiny post.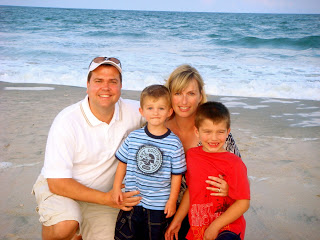 1. discovered continuous spray sunscreen.  omg why haven't i known?
2. chocolate covered pretzels with toffee bits  sprinkled on top.  dude.  
3. little boys grab themselves. its a universal trait that i've finally recognized as a male trait, not just a grown male trait.  LOL
4. Carolina sand has a remarkable sense of finding it's way into nooks in crannies that make you wonder...

5. crocs really need to be kept to the children.  please.  
6. swimming pools make my legs look shiny all day! 
7.palmetto bugs crunch when you slam your child's croc on them.  
8. conversation at pool with a man from kansas city - quote from him, but please say this with a very thick drawl and imagine a balding, shaggy moustache and bearded man with hoarse cigarette voice... "yeah...myrtle beach is pretty american.  We call myrtle beach the redneck capital of the east coast it's so tacky and typical redneck".   If only he knew how redneck
he
sounded to me, the little ole Canuck! LOL
9. you can call me sugar, honey, sweetie pie any time.  just don't say uh huh after I say thank you to you. 
10. Waves, no matter how big or small, always soothe and calm the soul.  Watching them, feeling them, hearing them washes away your worries...