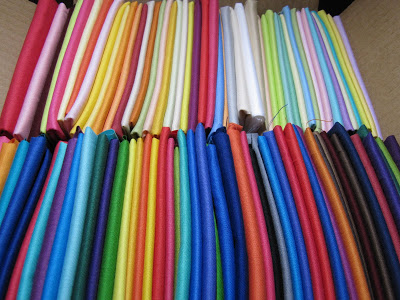 I got almost 100 fq's for 50 dollars.
They're very soft, they have a slight sheen to them, and I know I will make good use of them. Kona cottons appear to be slightly thicker.
I will report back on the sewing side of the fabric when I get to it. For now they are mine...uh... well, they're actually dh's, because he's wrapping them up and gifting them to me.
He has the easiest job ever...seriously. I even shop for myself to help him out at Christmas.
I know a few anonymous people from my original
post
asking about CT were not thrilled with the fabric quality, but when I read
AmandaJean's
post a few days later, I read all of the comments about their thoughts about CT and most were pretty positive, so I thought for 50 dollars, I'd take a gamble on this amazing sale.
I wish I knew who the anonymous people were. Why are you anonymous? I truly value your opinion, and when you are anonymous, it makes me feel like we have a secret relationship. I start to fantasize about this....maybe Martha Stewart really IS reading my blog. Maybe it's some uber cool european designer waiting to pounce on my talents.
...Maybe it's John Travolta....oh that's a different fantasy.