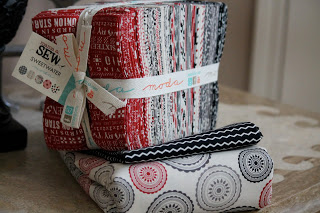 I'm working on machine quilting a project made with the above lovely bundle. I'm pulling my hair out. It's a large quilt, and the fricken thread is breaking over and over and over and over and over and over and over. Get my point?
I've tried:
-rethreading from top to bottom.
-cleaning out all lint from the nooks and crannies
-adjusting tension
-denim needles
-microtex needles
-quilting needles
-a variety of brands of thread including Guterman, Connecting Threads, Serger Thread (gasp!) Empire Threads (British), and of course,Aurifil, the beloved brand of many. I love it for piecing, but this project it is breaking every.darn.minute. My last project I tried King Tut, which seemed to win the debate of Aurifil vs KingTut, but my local quilt shop is 1/2 hour away and I'm too lazy to fight traffic to get down there.
HELP!!!! So my project gets quilting in 1 hour blocks, because the swear words are surfacing randomly and that's just not enjoyable. It's also not enjoyable when it's my first quilting project back from my summer vacation hiatus.
Perhaps it's my quilting design? Am I too fast? It doesn't happen on the curves...but on the straight aways. Is my machine just vengeful at me for neglecting it so much?
Ah, it's good to vent.
This project is really cool. I'm trying to think of a name. This fabric, Mama Said Sew by Sweetwater is blacks/greys/whites and reds. My quilt is shades of greys, a few blacks and a hint of red. I was thinking Shades Of Grey...but that's too E.L. James'ish and somehow erotica and quilting make me blush. Then I started getting giddy...I do have a few spots of red in my quilt....Red Room of Pain?
enough.
Modern Greys?
Urban Shades?
I think it will be called greys black and red quilt.