A pictorial tour of the 4 hour assembly process of my new APQS Millennium! I could have paid someone to come out and do it for me, but it was important for me to know the ins and outs of this setup...plus, 500 dollars can buy a lot of thread! ;-)
We did our setup in two sessions.
The big rail was mounted to the table legs. easy.
Trent tightening everything up...
I got a hydraulic lift for the table - being 6' tall, I thought it might help with posture and position over time. Here I'm unravelling the lifts and getting them ready.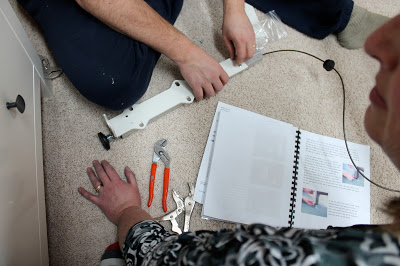 Figuring out how the brackets fit onto the lifts....
My amazing helper #2 putting the brackets on the lifts.
Putting the crossbar connection support for the hydraulic motor, only to find out I put it on backwards. The power box was different than in the manual diagrams and therefore we had to figure this out a bit on our own.
Helper #1 and #2 tightening the hydraulic motor....
Me trying to figure out if we mounted them correctly - the lift works, but I wished it would lift more..
Hydraulic lift installation - moderate difficulty.
By this point, we were 'done' for the night.
So tired!!!
Helper #2 greeted me this morning with: are we ready to setup Millie now? Coffee first, buddy!
Felt pads on the crossbars to lay the pantograph table..very easy.
Poser pretending like he is so accurate and careful in laying down the table.
Helper #2 putting Millie's handles on...easy
Assembling Millie's carriage - easy
Trent doing some kind of connection. There were plugs to plug in and ground wires to mount. -easy
Two of the leader bars have been put into place. These were really easy to do except for silly errors.
We were cracking jokes at this point about the poles - there's a 'male' end and a 'female end to the poles, and sometimes we had to swing the 12 ft poles all the way around because we had the wrong end....so the jokes started flying. You know the point you start getting giddy because you're tired and ready to be done?
The brake was installed...
Reading how to install the fabric advance. This part we forgot to take photos of. It was relatively easy. The motor fits onto the 'male end' of the leader pole. The only difficulty we came up with was the actual connection couldn't be tightened because the motor was in an awkward position. Trent had the brainy idea to plug the motor in and advance the mechanism so it could fit properly.
Loading a practice quilt. Loaded it wrong...ha!
I love my Millie!
I love my man...we did it!