This is a pretty boring post - but for anyone who ever purchases an APQS longarm and anticipates how much, how large the delivery...here goes.
MILLIE IS HERE! SHE'S HERE!!! SHE'S REALLY REALLY HERE!!!
That being said....
It was uneventful. It was deflating. I pictured this large semi truck coming up the street. The shipping email said expect a 24-48 foot tractor trailer! Traffic being tied up, neighbours looking out their windows, cars being scraped from the wide corner turns...
ya. Nope.
The shipping notice you get says 8 boxes. So I'm envisioning PALLETS of goods arriving on my doorstep. How on earth is it going to fit in my garage!!!???
This is the truck that came to my house: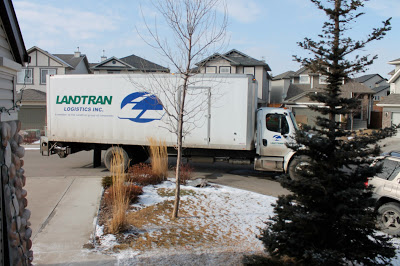 See? Deflating.
My delivery was the only one inside the truck. The boxes must have shifted and they were kind of everywhere in the back of the truck. eep.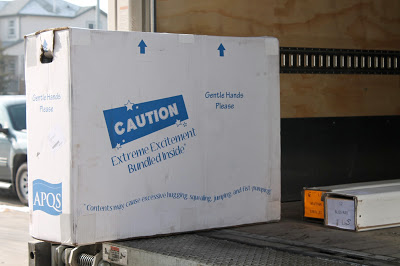 Alas, this white shining box was coming out - see how it says Gentle Hands? not so much when you look at the rest of the photos. :(
The box is awesome though - it says "Contents may cause excessive hugging, squealing, jumping and fist pumping"
I really did feel that way, but my delivery driver was kind of straight laced and just didn't understand my need to photograph the event. HI CHRIS THE DELIVERY DRIVER!!! I bet he went home and told his friends that quilters are young and wacko.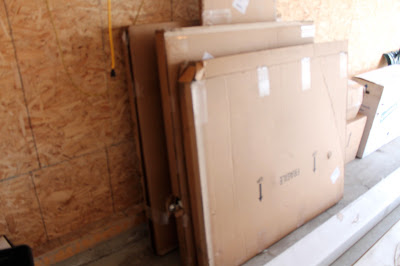 Here's the lot of boxes - definitely not as cumbersome as I imagined. The 12 foot pole boxes on the floor are heavy though! Everything else appears easy to move. Notice the boxes with FRAGILE? and the arrows in a certain direction. ya. I don't think those were regarded. Maybe they read them as FRAH-JEE-LAY in Italian or something...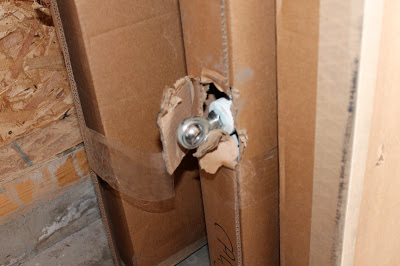 Here are a few worrisome photos - the boxes were damaged and opened. This one had a part breaking through the side of the box and exposed. I hope it isn't bent. :(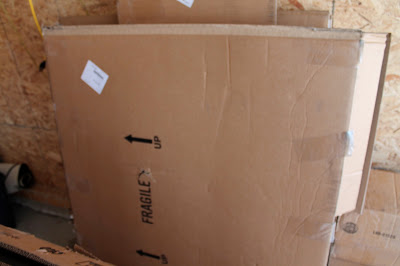 You can see how the boxes are opened and in all directions. Hopefully there isn't anything to worry about.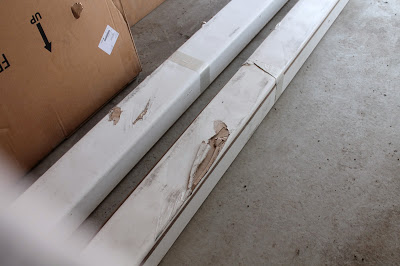 The 12 foot table pole boxes, as sturdy as they are got beaten up really well too.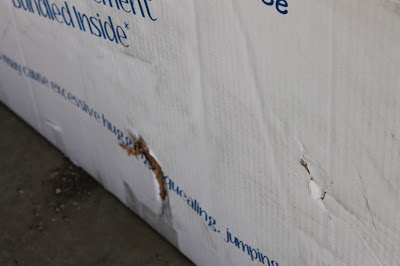 These are the two that have me worried the most - Millie's box was torn and punctured in quite a few places on one side of her box. Hopefully she's well insulated and has mega protection inside.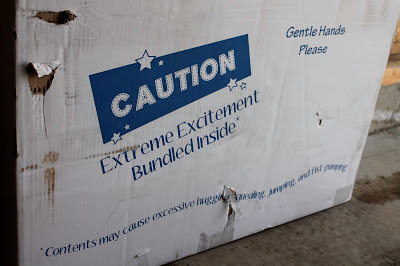 I'll let you know how unpacking and assembling goes. I'm really hoping that the packaging has protected Millie and all parts are in fine form. If you only knew how much I spent for shipping this setup - you too would be a little unsettled to receive your package this way.

JUST A NOTE: I DON'T THINK THIS REALLY HAS ANYTHING TO DO WITH APQS, BUT MORE WITH THE FREIGHT TRANSPORT/DELIVERY PROCESS.I

n no way am I trying to convey a bad message about apqs - they have been a phenomenal team to work with so far!
I'm excited to get her into my basement and set up. From the size of the shipment, I think it will be a little easier than I thought. ( I really did think I was receiving pallets, and I was researching ways to reuse wooden pallets in my garden.)
My electrician is coming this afternoon to put lighting in my studio, hooray...and then I can set my girl up!
I'll be sure to document that as well. Hope you don't mind. There just were no posts about this whole process, so I want others to be able to see what it is all about!