It's been a busy few months. I have forgotten to take photos of some of the quilting I've been doing, but here are some for inspiration. My list of quilts to make keeps growing and growing! I'm doomed!
I am always in awe of people's work.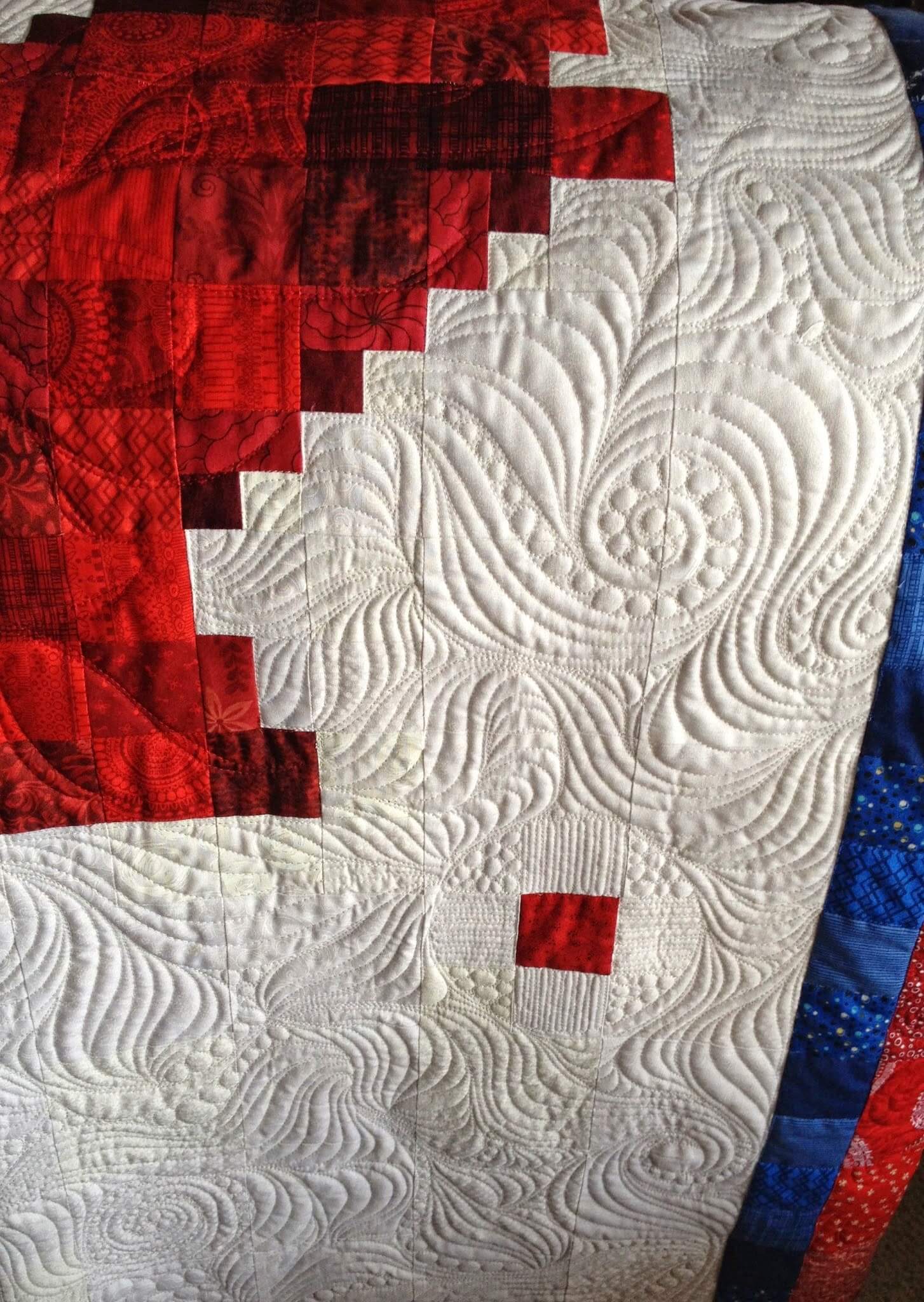 This quilt is one for me..er...my husband. I can't show much of it, but I can show off my quilting. I'm in love with the texture and the effect I made on the white fabric.
Thread: Wonderfil MasterQuilter in White
Batting: Hobbs 80/20
Freehand quilting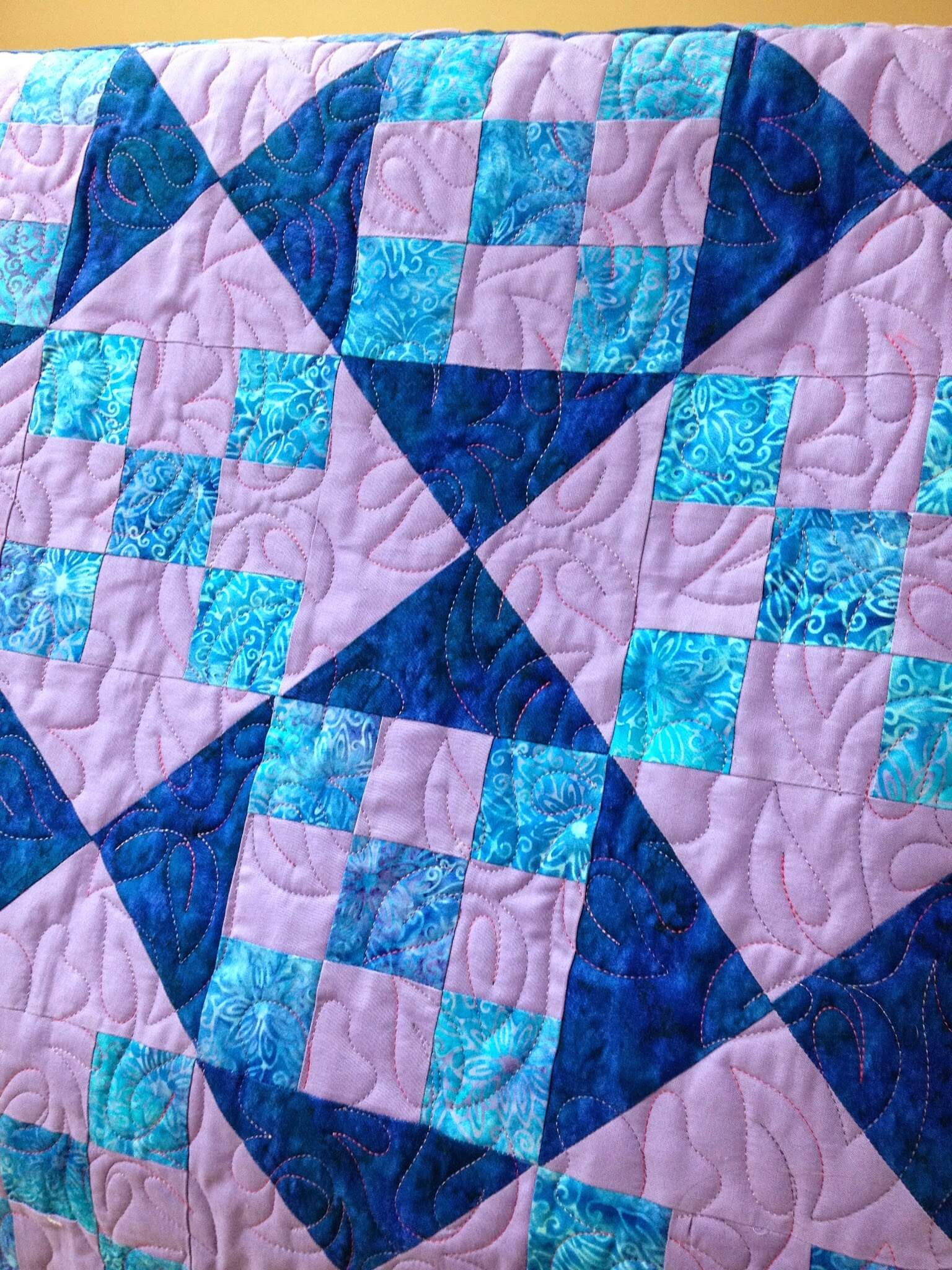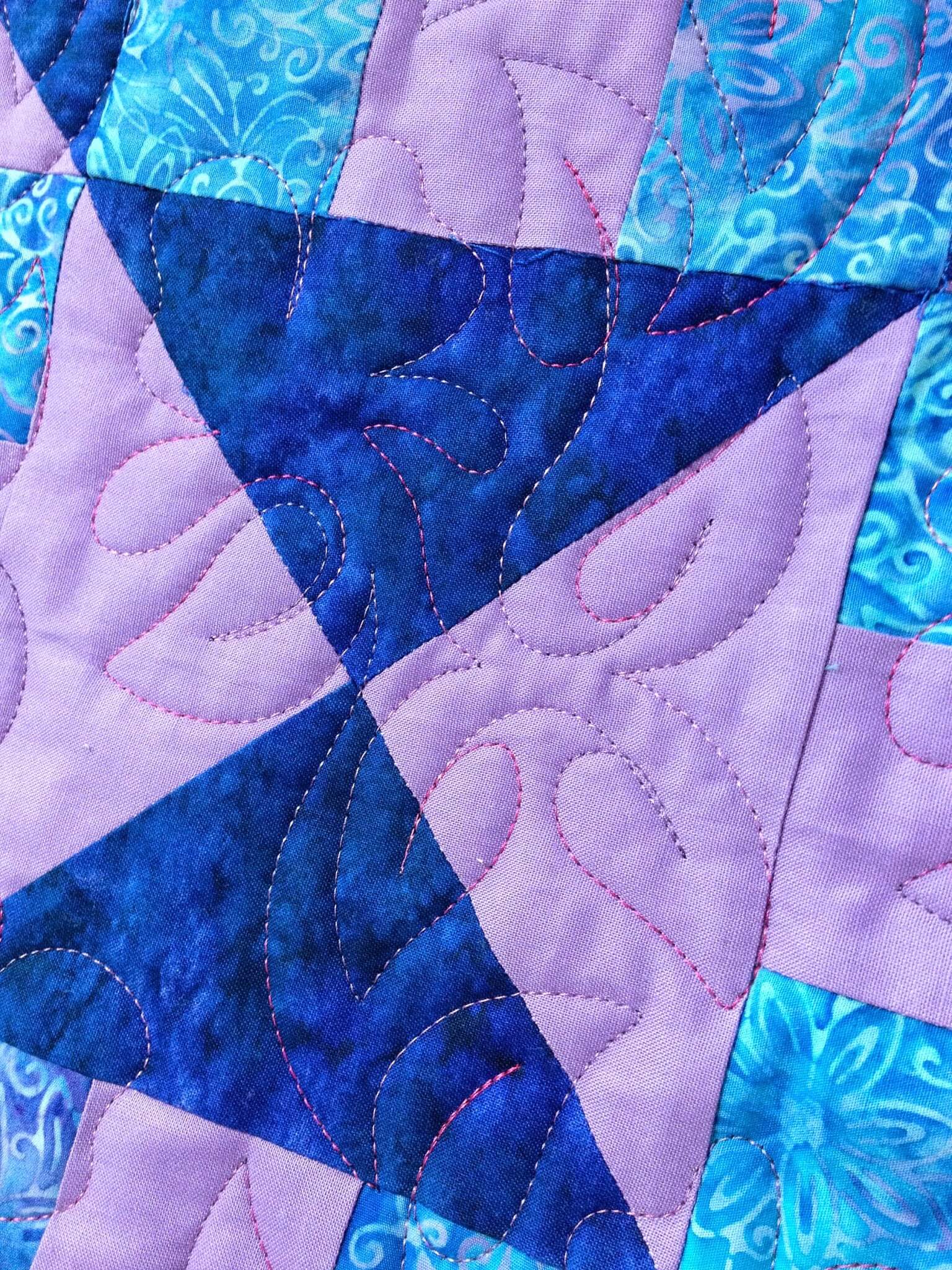 My client gave me free range of what to quilt on her quilts. This can be very difficult, especially when one doesn't know the client's taste.
Pantograph - Keukenhof
Thread - Aurifil Variegated purple/pink
Batting: Warm and Natural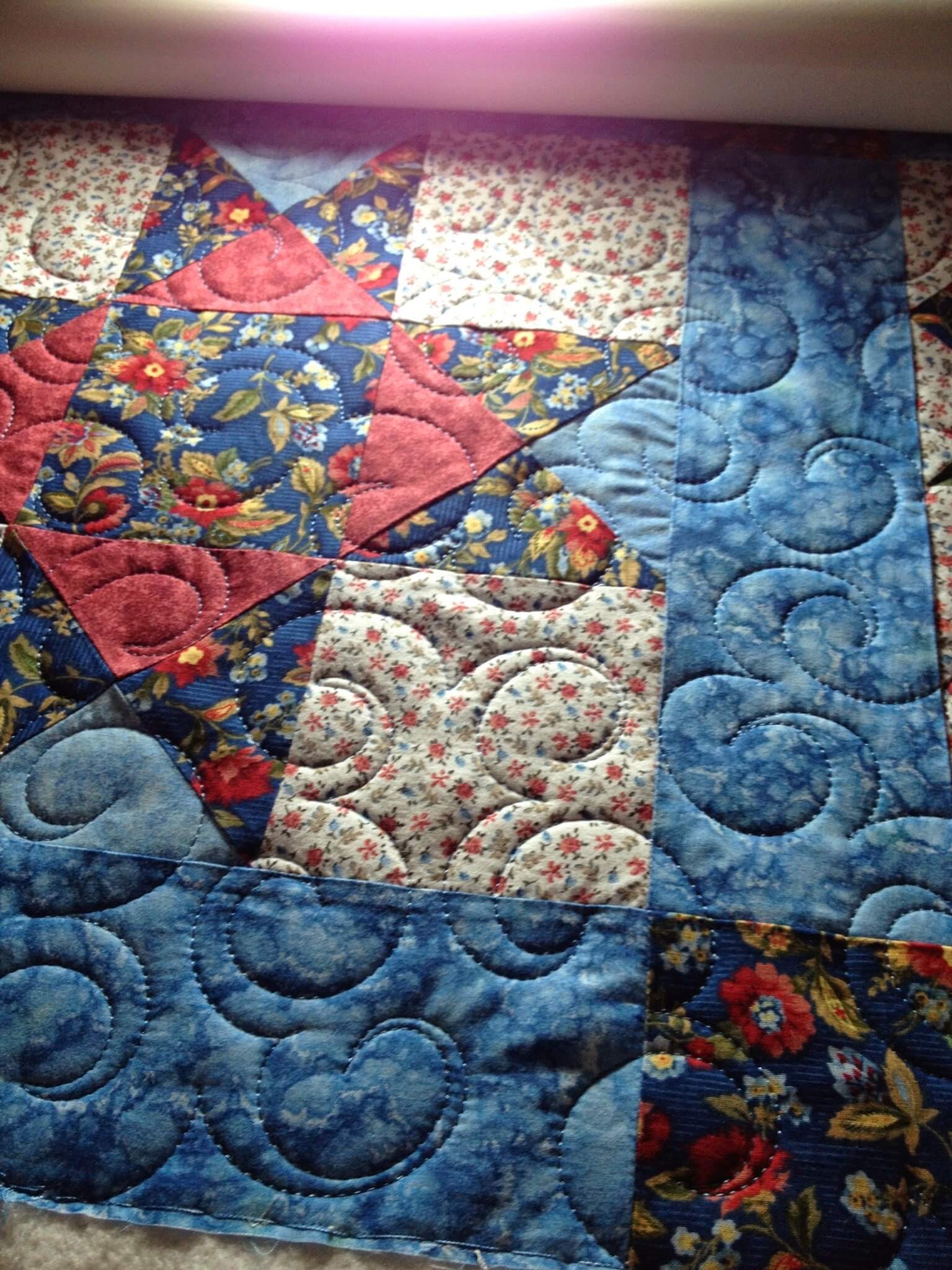 Freehand 3's and e's create a swirl/spiral/filigree effect.
Thread: Superior Magnifico in blue
Batting: Warm and Natural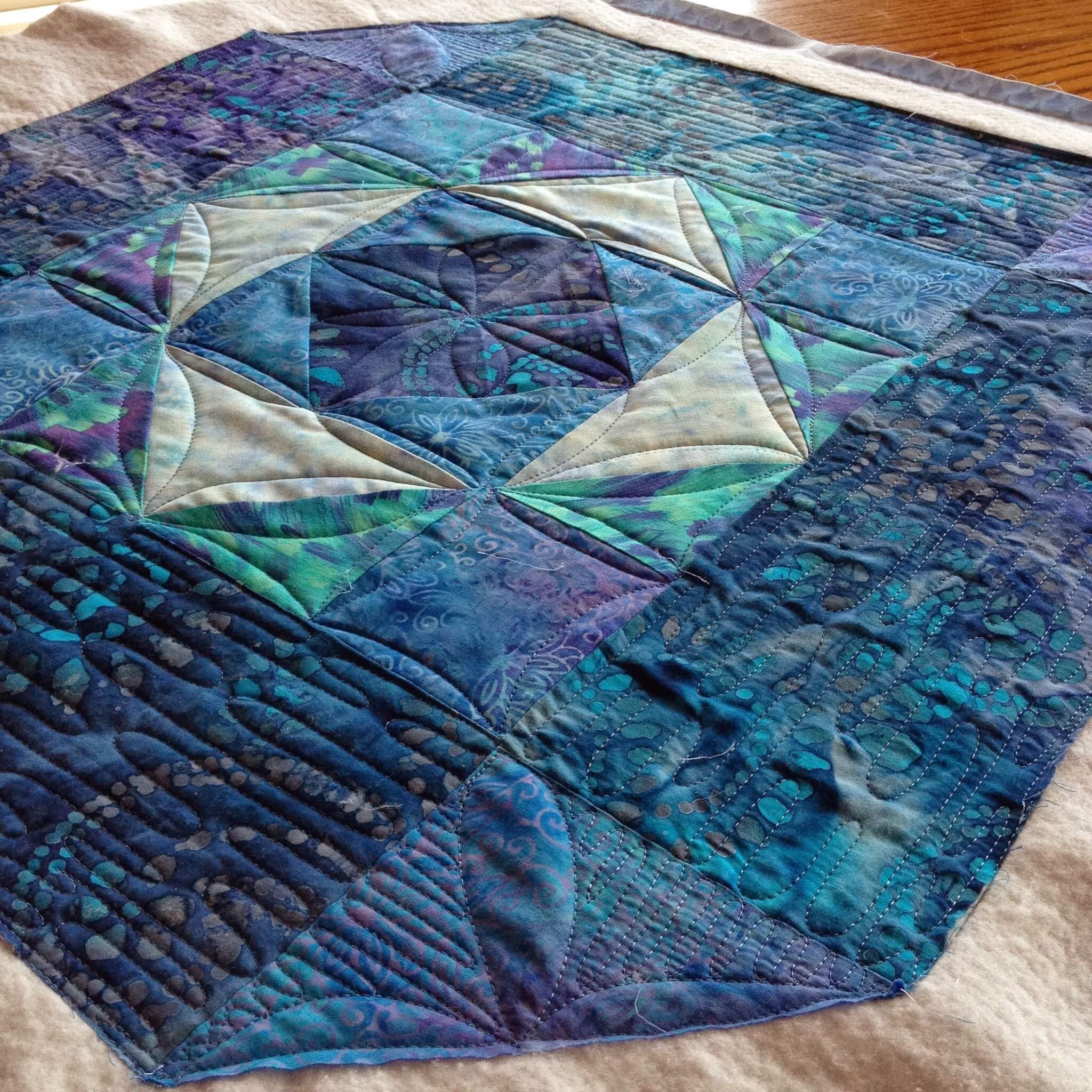 Freehand Playing around - continuous curves and some fill work
Thread: Superior Magnifico
Batting : Warm and Natural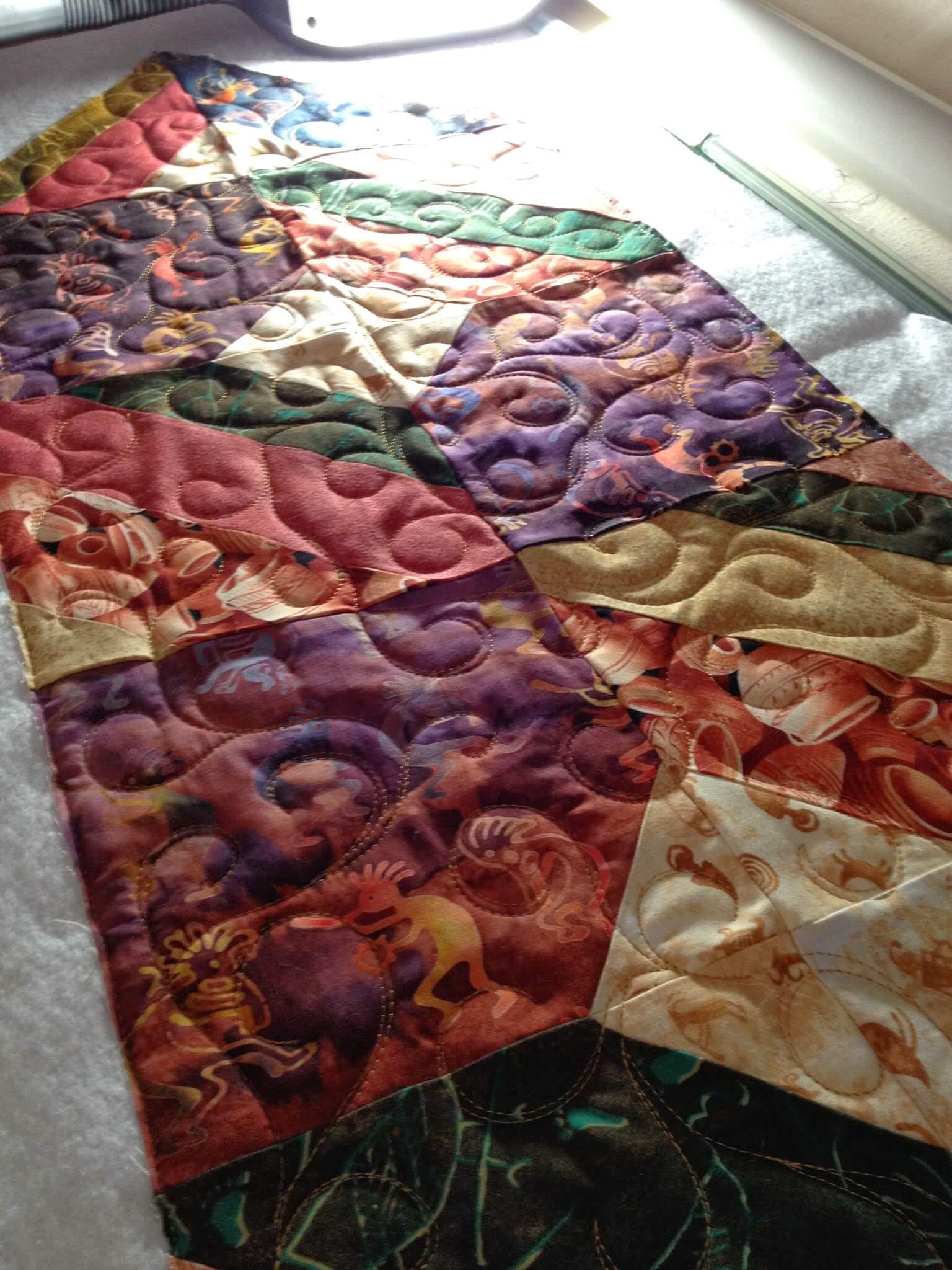 Freehand scroll/filigree style
Thread: Glide gold
Batting: Warm and Natural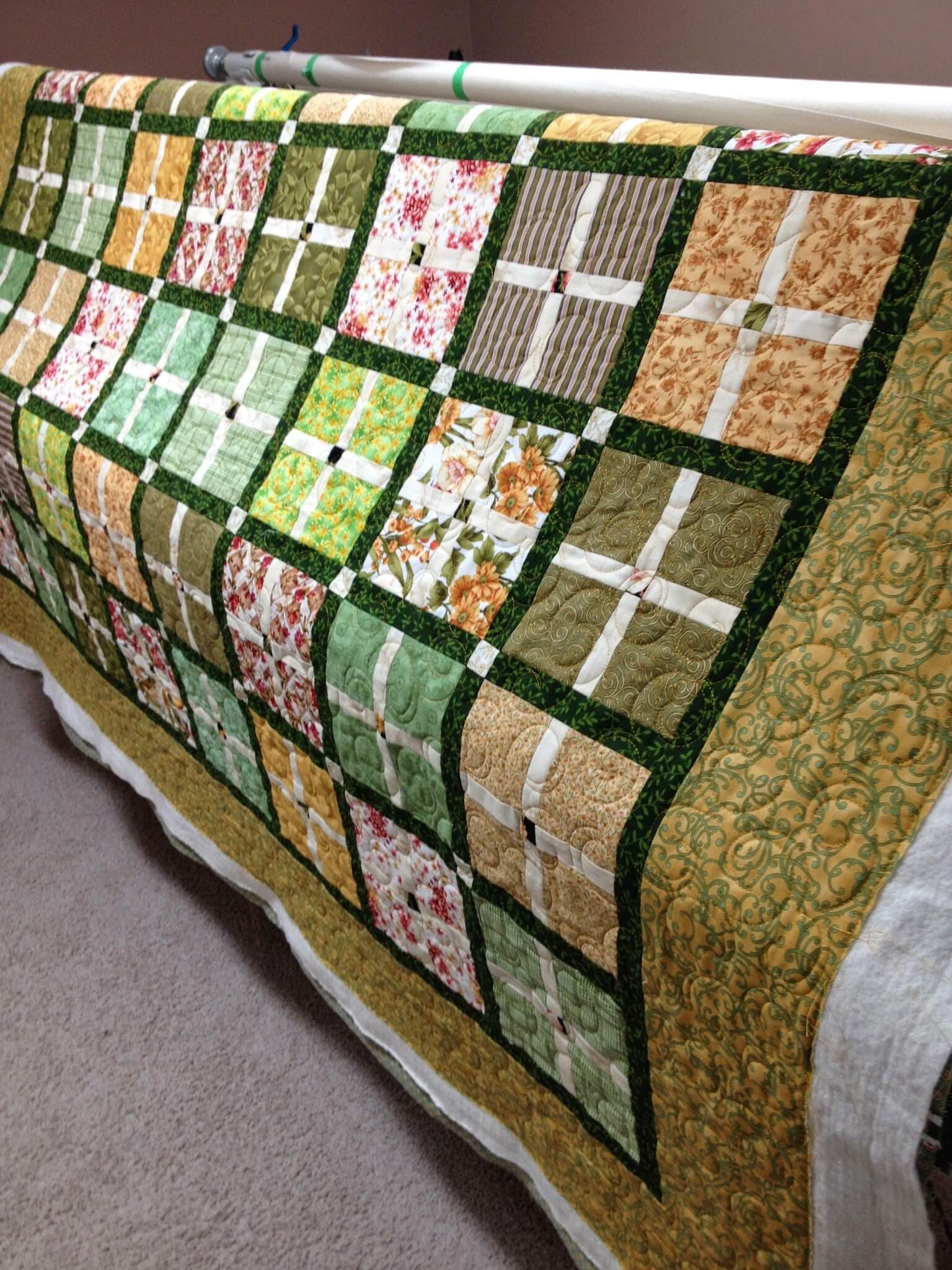 A beautiful modern pattern with a mix of modern and traditional colours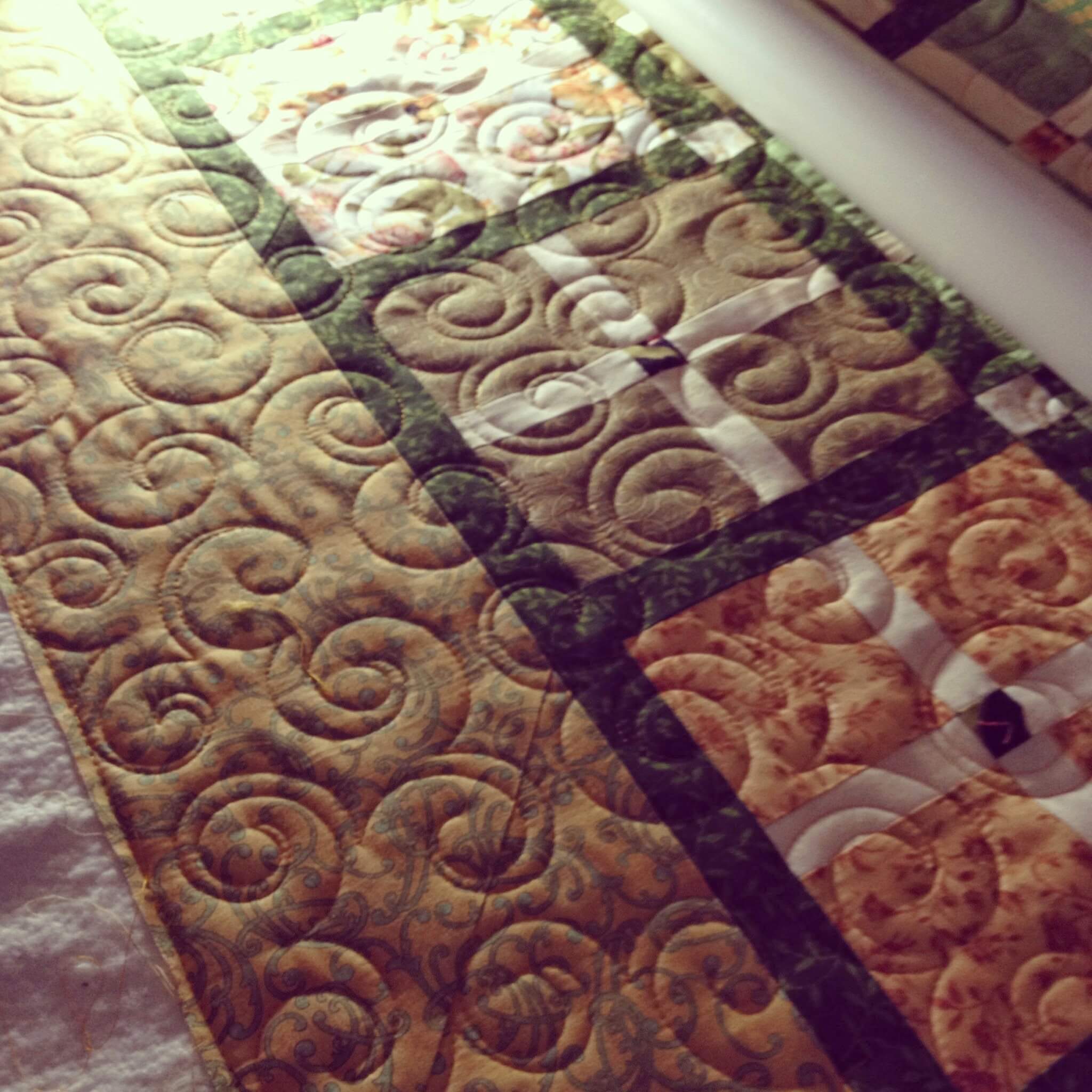 Freehand 3's and e's
Thread - Glide Gold
Batting - Warm and Natural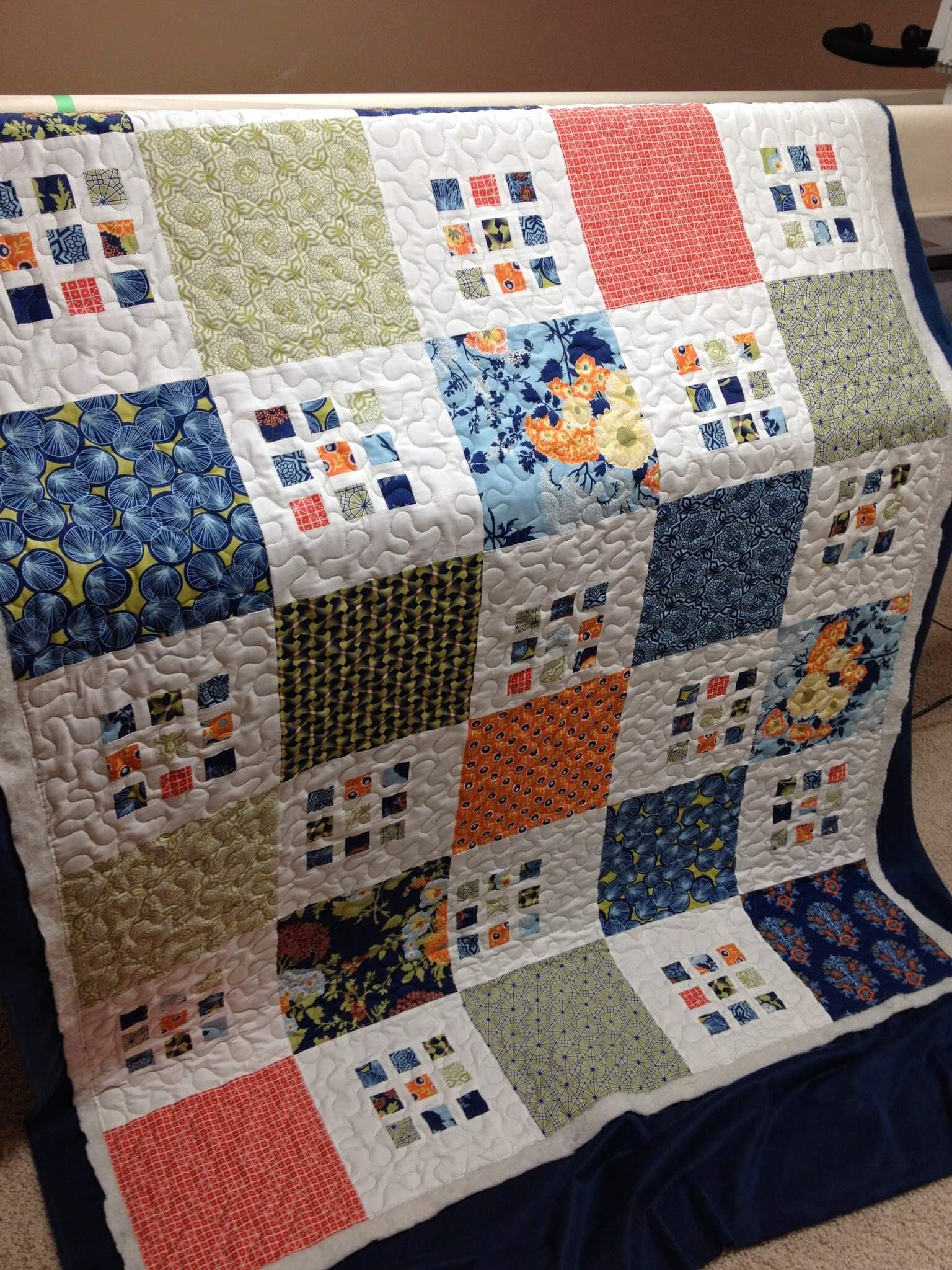 A simple modern design with fresh colours in blues, greens and orange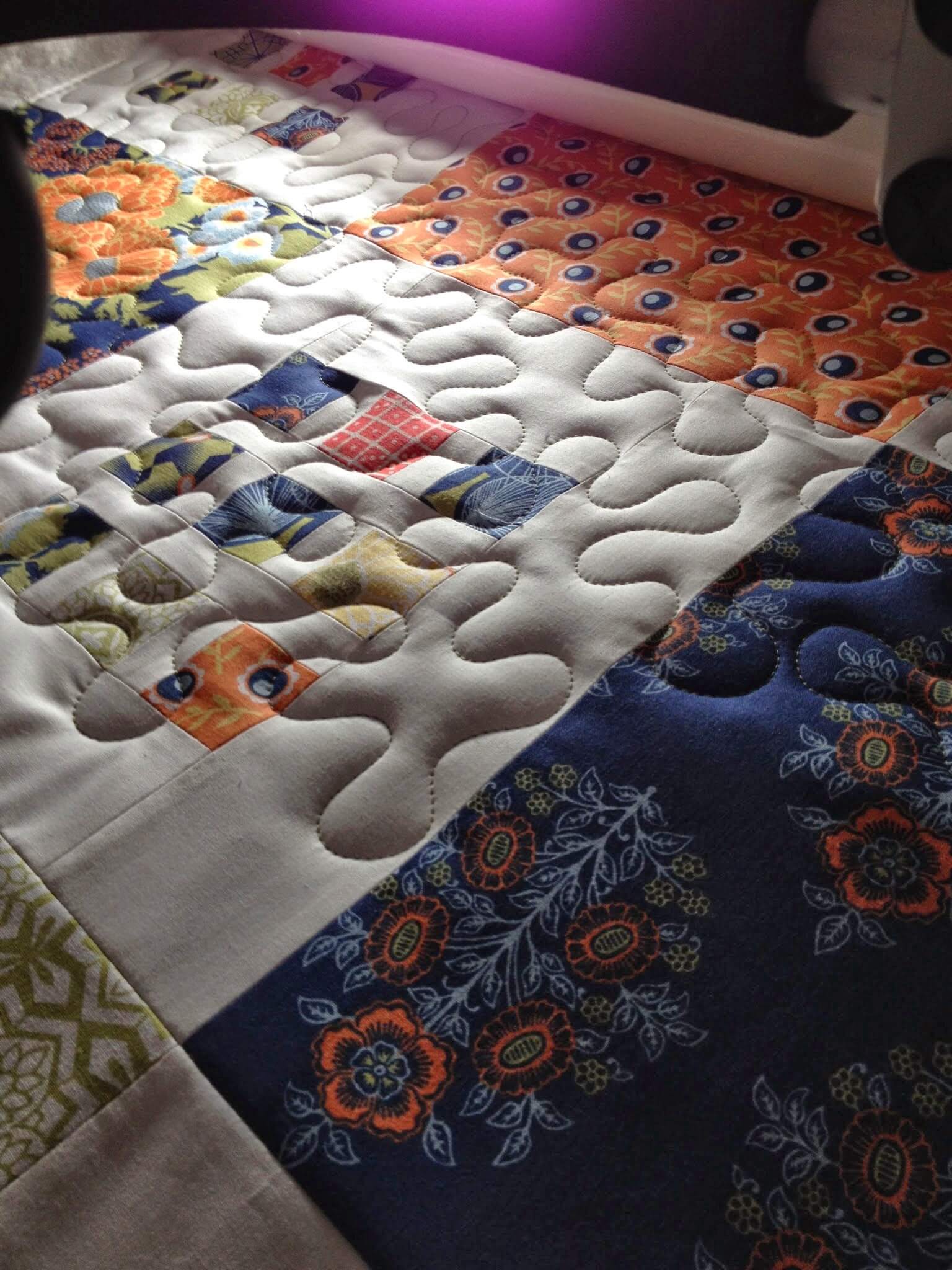 Freehand basic meander
Thread - Superior 4069 green
Batting - Hobbs 80/20
Backing - Minky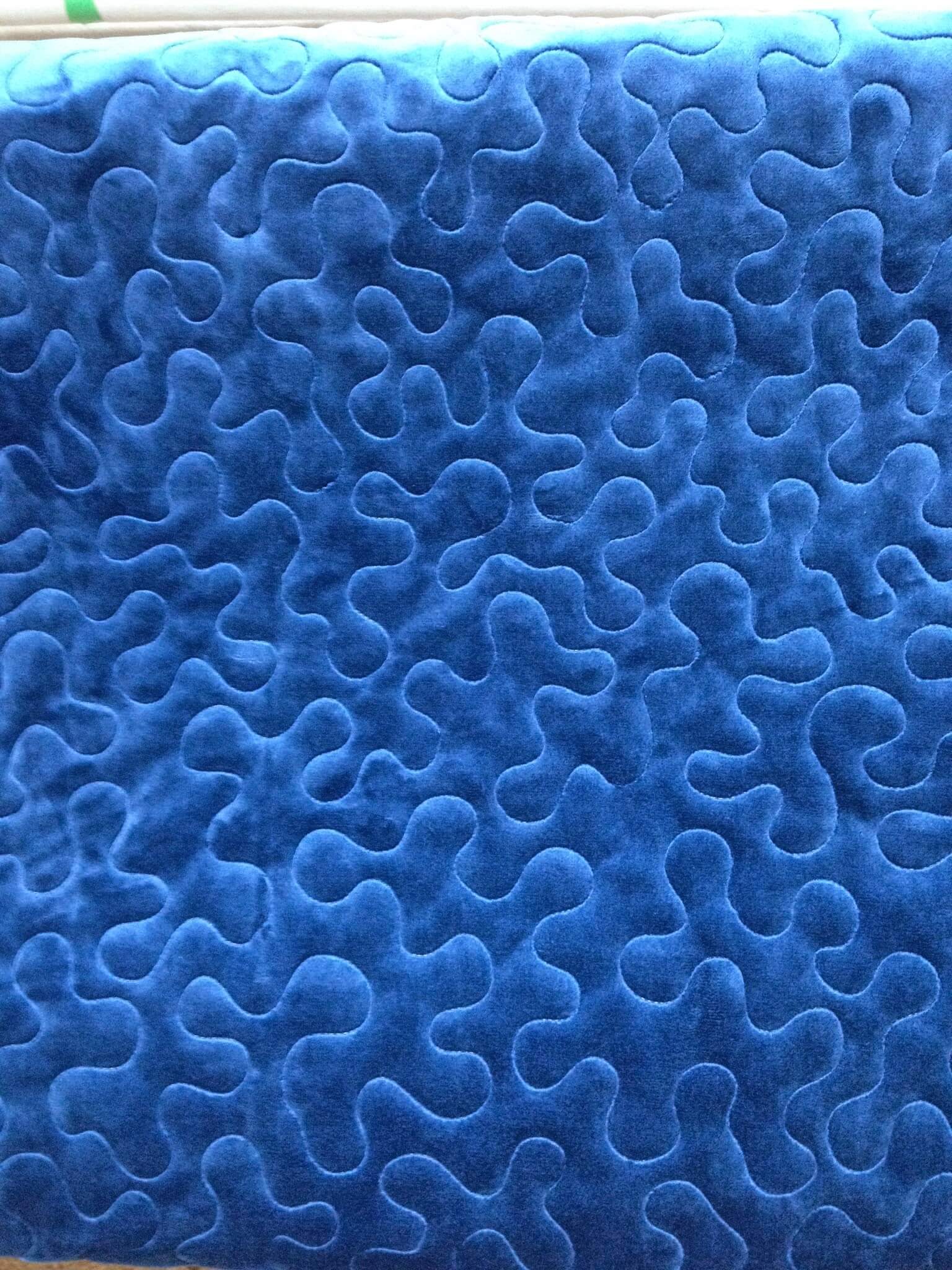 The texture of this minky backing was outstanding. It was a high quality minky fabric with no stretch to it, and was amazing to quilt with. This minky was so soft, I didn't want to give the quilt back.
********************
I like to list my thread usage as I go along for my reference. I'm still trying to narrow down the threads I like, but so far my favourites (in no particular order) are Aurifil 40 poly, Superior Magnifico and So Fine, and Wonderfil's Master Quilter. and Glide.
I have clients that prefer matte finish and some that prefer the show or sheen of a thread (and some that don't care at all), therefore my preference for a bunch of brands.
Here are my millions of thoughts (mine and only mine...I am NO expert) on each one:
Aurifil polyester - only 10 colours (variegated) to work with in the larger cone. It quilts like butter, the variegated threads look stunning in the stitching lines, but only 10 colours. Jewelry for a quilt! No breakage, shredding or lint issues, ever. Tension is always perfect.
Superior Magnifico - Poly thread with a shine. Beautiful colours and a large selection to choose from. Quilts up beautifully with no shredding or lint. No heavy thread buildup with dense quilting. Shinier thread and smooth finish. When I use this, it really does feel like a superior thread.
Superior So Fine - look of a matte traditional cotton in a poly thread. Strong, no shredding and very little tension issues. Great thread...I'm not totally sold yet using it on dense quilting. It gives a linty looking buildup that I can't describe other than it looks like a cotton thread buildup. I'm used to the look of the MasterQuilter and Magnifico which looks a little cleaner with thread buildup. Can't think of how else to describe it. Maybe I should do a sample showing the difference between the two!
Wonderfil MasterQuilter - I love this thread. It looks like cotton, in a poly form. But it is slightly less dull looking than the SoFine, without it having any sheen. It is very smooth. I really love working with this thread. I just wish they had more colours in their selection. Good selection of colours, but not as expansive as say, Superior or Glide threads. This can be a problem sometimes when trying to match the 'right' red, like I did recently and had to switch to a different brand.
Glide thread - a shiny 40wt poly thread. Very affordable. Beautiful and huge selection of colours - dare I say too many? (I know, I said not enough in one paragraph - too many in this one) This is a lovely thread to work with. My only complaint is that I find it does shred somewhat and untwist when I snip my threads, or have to rethread my needle. A tiny complaint, nothing huge but enough to notice the difference between Magnifico and Glide. This thread is beautiful when it quilts up, it does have a slightly less smooth look than Superior Magnifico. I'm thinking it is the 'twist' of the thread that shows.
Again, these are just my thoughts to write down so I can reference later. I like to look back and see how my tastes and preferences have evolved over time.