Isn't he gorgeous?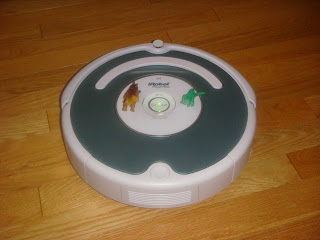 After living with my MIL for two weeks and watching hers magically transform her floors, and hearing how the rest of the inlaws have one,  I went out and purchased one.  myself.  A totally expensive, frivolous and so exciting purchase!   He's wonderful! Charming, he plays a tune when he starts, when he docks back at his station.   He whizzes around table legs, under my kitchen table and through all the obstacles of my main floor.  He does carpet too, but I'm just using him now for my hardwood/tile and floor mats.   He is wonderful.  Handy, tidy and and independent thinker.
As I said to my friends...how come I don't excited about designer clothes and shoes.  I could easily buy a coach bag or a pair of manolo blahniks (sp) but I'd rather have this dude.  Much more gratifying.
He's so wonderful! Did I say that already?  The kids love him too....see the dinosaurs going for a ride?
Highly recommended if you don't have one.