Been working on a few little things this week as I try and mend my body.  It's finally feeling alot more normal, and I've got my zing back!   Here's Ned #2,  that I made for my best friend Lorena.  She was coveting the ugly dolls when we were on our New York trip last May.  I told her in no way was "my" baby going to have an ugly doll as a stuffy.  He or she would be spoiled with perfect ones.  LOL.  So here is one I made for her...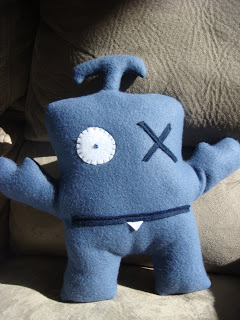 Okay,  looking at this one, I need to squish the stuffing a bit, because HE looks a bit like a SHE! 
LOL. 
I also wanted to make one of these pillows for baby Alexander.  You know when you do a project and the effort it requires just doesn't feel satisfactory?  This was one of those long stitching projects, which wasn't very gratifying to me.  I'm glad it's done.  Embroidery certainly isn't on my list of pleasures.  You can click on the images to get more detail...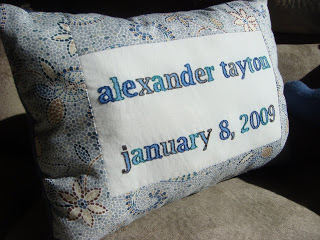 And here's the two together. The backing of the pillow is the same fabric as the stuffy, so they coordinate.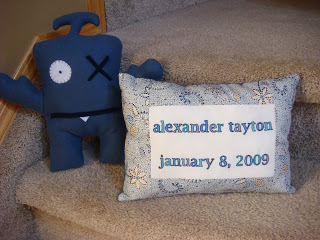 Once I meet Alexander next week (!!!!) I'll get a feel to what kind of quilt he deserves. :-)
On that note, I'm off for Spring Break. We're driving to Vancouver through the Rockies, and will be "home" visiting family and friends.  Looking forward to it, but hoping for not too much pull of the heart strings.