I have ousted the red, blue, and white pain of a quilt.   It has jaded my inspiration, my productivity, my creativity.  I have stopped its production.   I realized today, after so much procrastination and continued procrastination (library, washing floors, washing the BLINDS!!!! truly, it was that bad) that it just was going to pain me for the next week and I still would not enjoy the final end product.  It does not feel like an Andrea quilt. 

So, I have reverted to my 
original
 mother in law quilt.  I made it last year.  The one that dh thought was too "granola".  The one that when I chose the fabrics, they reminded me of the ocean, the sand, and the beach - the beach that we visit every year...the beach where mil lives.    It's not a traditional quilt, but it's simple, and that's what I like about it.  I'm simple. It was for her, and 
I 
chose the fabrics for her.  
It doesn't match her decor, but, it will be cozy and loved when it's done.   
Here's a reminder of what the top looks like - it's from Happy Hour Quilts: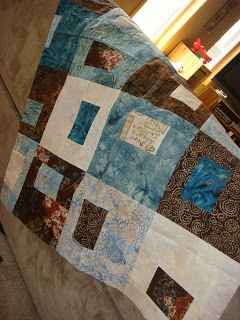 Do you realize how lifted I feel?  How motivated once again I feel?  How free I feel? 
Let me just say,  it's awesome.   It will be sandwiched and quilted by the weekend....stay tuned.