Visitors have already left, this morning.  It's empty and quiet.  It was busy.  phew!
No crafty goodness to report on...been enjoying the outdoors and catching up on lots of magazine reading.   What quilting magazines are your favourites?  I love Quilters Home, and I also really like American Patchwork and Quilting, as they usually have a good smattering of modern quilting ideas in there too.  So the stacks of back issues are once again piled by my bedside, a big mess of magazines and inspiration.  This next week, the weather is threatening to be raining all week, a good thing for us, as it has been drought conditions here.  But rain and cool weather makes a quilter happy  - guilt free indoor progress! ;-)
After catching up on a few of my favourite blogs, it seems I am not alone in the dwindling of projects this season.   But here are some of the summer happenings around here...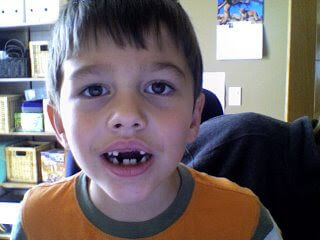 The tooth fairy has literally been exhausted in her round trips to our house.   4 teeth in a month!   It's pudding and baby food for him! LOL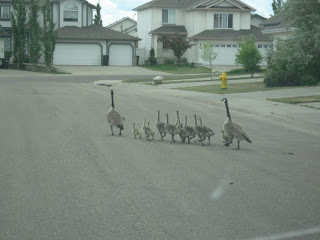 These guys were lost on my street. By about 4 blocks.  What they were doing in my neck of thee woods, I wonder.   But they wandered through like they owned the joint.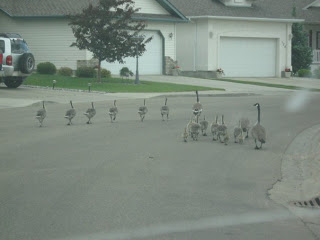 See here?  They decided to block both lanes of traffic!!