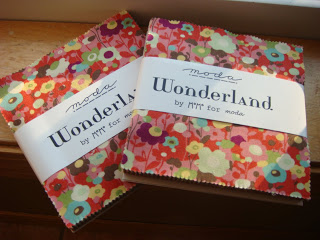 I knew you were all swarming back and forth waiting for my post!
Here it is.  Not one, but TWO Wonderland by MoMo charm packs.   I really thought about giving away only one, leaving me with more to play with, but really...you need two packs to really do something with them!   Here are some ideas and inspiration for your charm pack creations at
ModaBakeShop
So...here are the details.   You don't get extra entries for subscribing or referring or blogging about me.   But, you can definately do that if you want!! 
Just leave a comment and I will choose a winner at random. Hopefully I can figure out the random generator thingy, if not, it's the name in the hat deal.  
I will choose a winner Monday morning, August 31 by noon, MST...depending on how the first day of school
events
go.   From the vibe I'm getting...all will go totally well!
Good luck!  
**giveaway now drawn and complete!  Congratulations #2 -Beth!