I haven't been melting in the heat wave we've had over the last week... really.  I've been doing a bit of that, and this and that, and a bit of  this...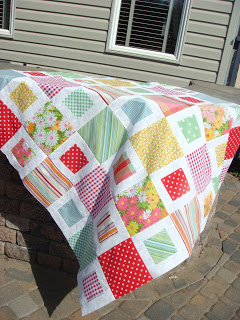 My
vintage bed linens
have finally been used!  I pieced it with some stash of white, as well as a piece of my Katie Jump Rope in blue.  You'll see it all in a bit completed...I'm going to back it with my
ladybug
backing fabric I picked up long ago.
Top it off with back to school for my big guy...he's a big grade 2'er now and is thrilled that he is now allowed to (according to school rules) play in "the BIG forest" now.  LOL.  Little guy is missing his big bro, but he'll be off to preschool class twice a week starting next week.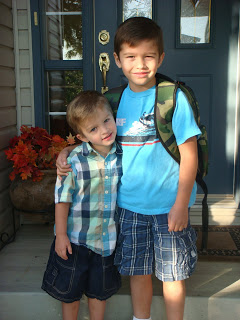 I've been also doing lots of thinking about what fabrics to cut apart for a
Wonky Log Cabin Block Quilt Along
.   And of course, my life wouldn't be complete without millions of more thoughts trapped in my head, such as this
colourway
of solids I thought up for a modern quilt I've been wanting to try out. Still need to purchase these, however..and may wait until my wonky quilt is underway.
To top it off, I've been doing some home fixes - getting paint for the deck, fixing the fence, repairing the play structure roof, and the endless weeding in our garden and cobblestone paved back yard.  **hint...when buying ahome, even though pavers look so beautiful, and look like not a lot of maintenance - they are.  those weeds pop up daily, in abundance.